Name: woodkidsoutdoor playground sets
Item:DL14-130B
Size:16500*4200*5300mm
Features:
2Safe Entry Ladder
3Multi-level wooden roof with premium dormer and decorative walls
1 double slide
1tube slide
1 climbingchannel
1 Rock Wall with Climbing Ropeand so on
Description of outdoor playground
When you have this wood kids outdoor playground sets,you will get excellent value and excellent design. This gives the children the interactive fun of outdoor play. This equipment is ideal for small backstage.This device has an attractive appearance and is loved by children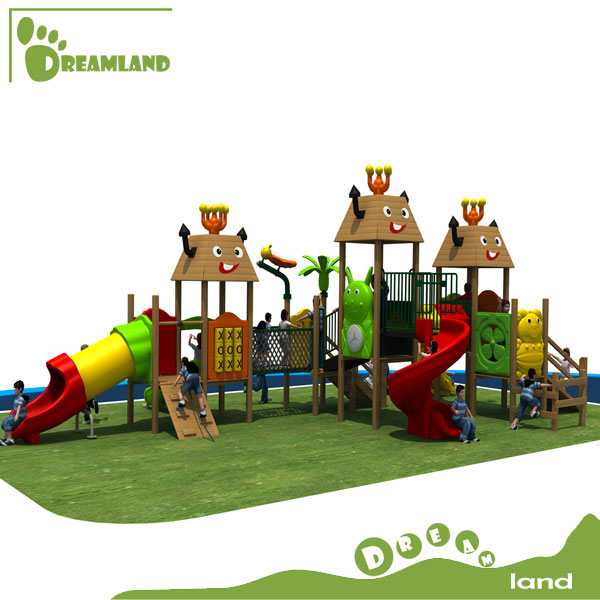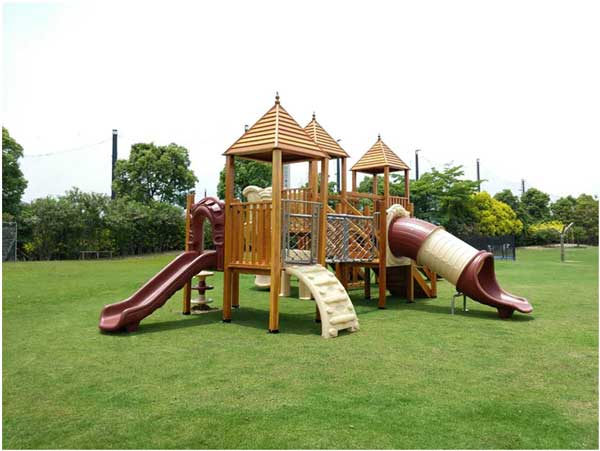 More information
| | |
| --- | --- |
| Steel | National standrad steel pipe with thickness 2.2mm ,welded by Japanese OTC robot welding system,strong and smooth,norag,no welding scar.The anti-electric-state powder painted to the metal was imported from Germany. |
| Screws | No. 316 stainless steel material, all the clamp and clips are cast from aluminum |
| Painting | We use the painting flow line machine, well-mixed |
| The deck and stair | welded assembly fabricated from 2.2 mm perforated steel,decks are pressed, punched and welded,sand blasted to remove rust &impurity, rubber coated to a thickness of 4mm |
| Plastic | LLDPE imported from Samsung corporation in South Korea. And the wall thickness of the plastic parts are above 8mm. |
| Ropes and Nets | The ropes and nets are imported high quality sailing ropes with diameter of 14mm & 16mm, containing an internal of high strength galvanized steel wire. |
| Design | The product can be matched and design as your requirements. |
Materials Description:
>>Plastic Elements
Plastic parts of our products are manufactured by rotational moulding of LLDPE imported from Samsung corporation in South Korea. And the wall thickness of the plastic parts are above 8mm.

>>Main Columns
All the main columns are made of galvanized steel pipes with diameter of 114mm and wall thickness of 2.2mm. Quality and technical standard meets the requirements of National standard GB/T3091-2001.

>>Platforms
All the platforms are shaped by piercing 2.2mm-thick cold-roll steel sheet, with bores of diameter 6mm. The quality and technical standard are conforming to the European EN1176 standard.

>>Other Metal Parts
All the metal parts are made of galvanized steel pipes with diameter of 60mm, 48mm, 38mm, 32mm, 28mm and wall thickness of 2.2mm. Quality and technical standard meets the requirements of National standard GB/T3091-2001.

>>Fittings
All the metal fittings are made of high strength aluminum alloy of one-time cast forming. After polishing processing, all the sharp corners are round and smooth. All the screws are made of stainless steel #314, which meets the standard of GB/T1221-1992.

>>Ropes and Nets
The ropes and nets are imported high quality sailing ropes with diameter of 12mm & 16mm, containing an internal of high strength galvanized steel wire
Workshop: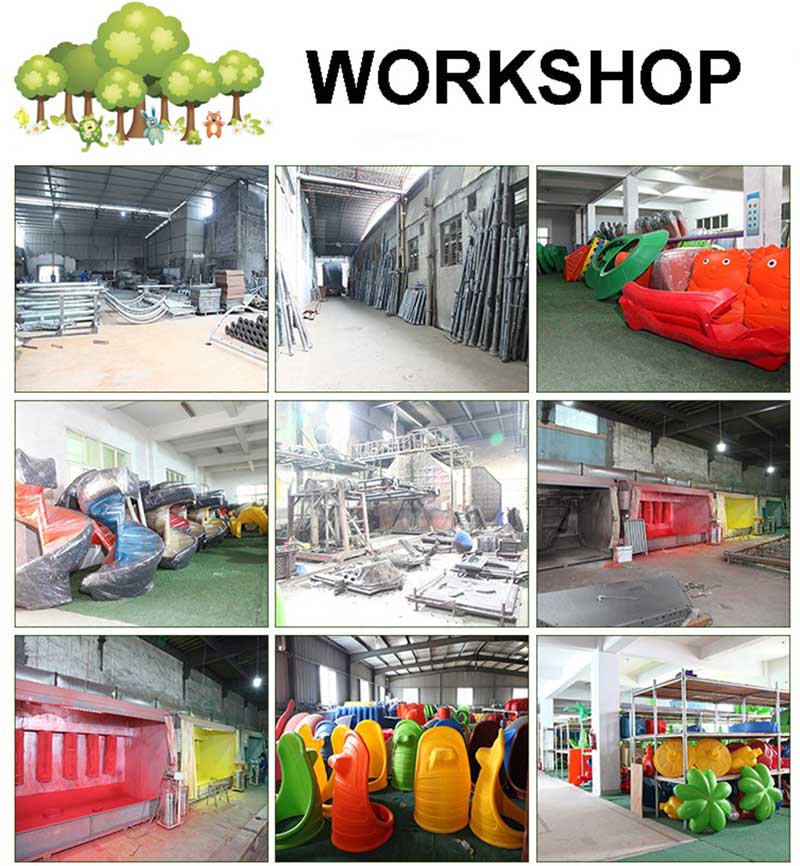 Factory:
Dreamland Playground Co. Ltd. specialized in designing, manufacturing and installing large children recreational facilities in large commercial market, indoor playground, outdoor playground, trampoline, fitness equipment, inflatable playground and electric products.
We have engaged in this field for 6 years. And our company are in rapid development now.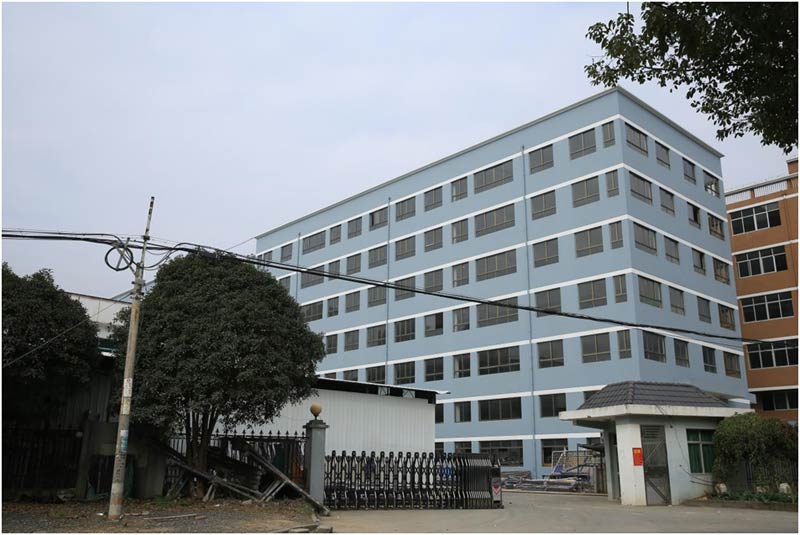 Real Cases: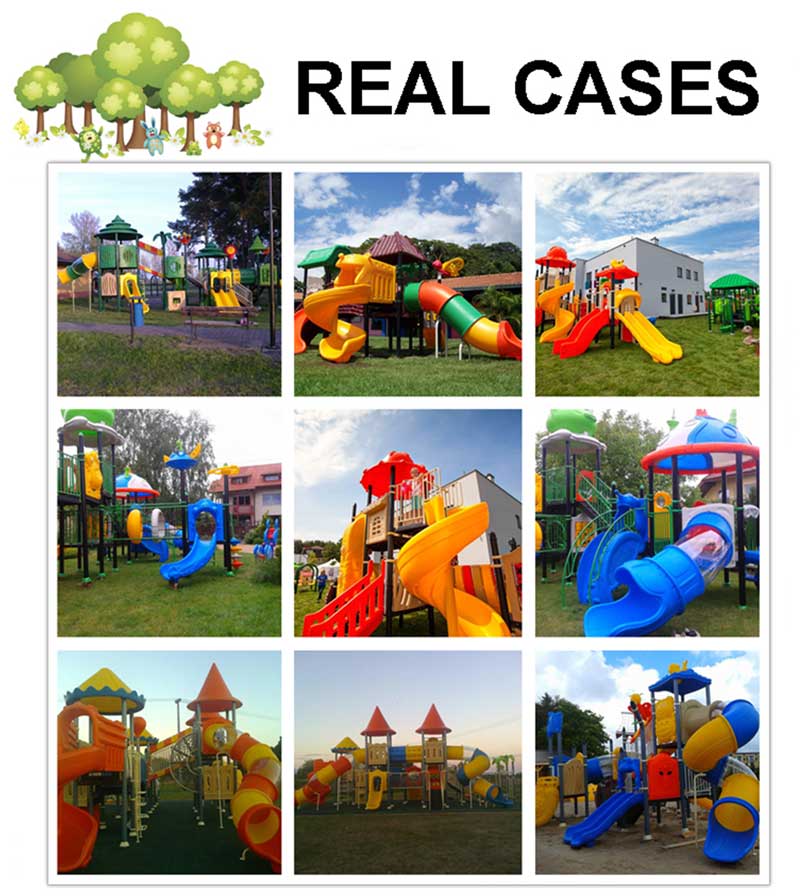 Why Choose US ?
1.Safe
All our designs and products are strictly inspected according to the safety standards to make sure all the parts of the toys will cause no harm to the kids. All the metal parts are smooth and the plastic parts are no-toxic, anti-ultraviolet property, conforming to the standard of FOOD class.

2.Experienced
Our toys are designed by very experienced designers according to the interests and feels of the children. With different characters and styles, our products bring to the children not only happiness but also the health and wisdom.

3.High Quality
We have been believing that quality is the soul of the products. We assure that our products will kee in very good condition after long time use or even in the harsh climatic conditions. All the parts will keep high durability between the temperature -50°C~50°C.

4.Competitive
For the same products in same quality and same standard, we will offer you the lowest prices. With the same amount of money, you will enjoy more experienced designs, faster delivery, professional installation instructions and much better services.
FAQ:
Q1: How can we order a right outdoor playground for our kindergarten or community?
A1: Firstly please plan your size of place,then keep a safety space of 200 cm for each direction.That means if your place is 2000*1600cm, the outdoor playground should be equal or less than 1600*1200cm.

Q2: Your outdoor playground are very nice,but how long could the colors keep for?
A2: The colors of outdoor playground could keep for 5 years or even more.

Q3: What about the warranty period for the kids slide?
A3: We warrant 1 year for our kids slide,but normally they will keep for a longer service time.

If you have any inquiry for the outdoor playground, please feel free to contact us.
FEEDBACK