Top 12 Ninja Course Factory
Publish Time: Author: Dreamland Visit: 506
It's no surprise that a large number of people, both children and adults, are fascinated by ninja courses. It leaves no doubt in our minds because participating in ninja training enhances the human body physically, emotionally, socially, and psychologically.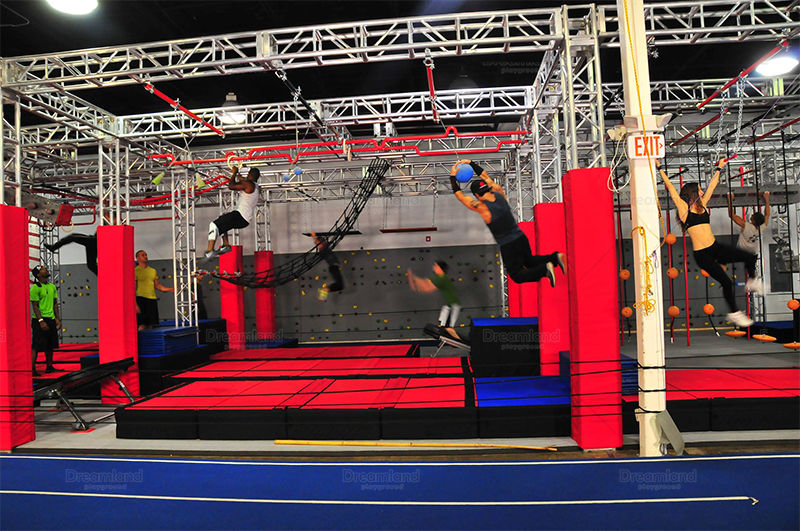 With that being said, an increasing number of entrepreneurs are venturing into this type of business, resulting in ninja courses being visible and accessible in many parts of the world.
As the industry grows, so do the number of factories and manufacturers that provide everything needed to get started. For a smooth and hassle-free start, these manufacturers and factories handle product manufacturing and even installation.
Choosing the ideal ninja course factory might be difficult for novices, so we've compiled a list of the top 12 ninja course factories that, in our opinion, provide outstanding service to all of their clients and maintain a positive reputation through their work.
1. The Warrior Factory Syracuse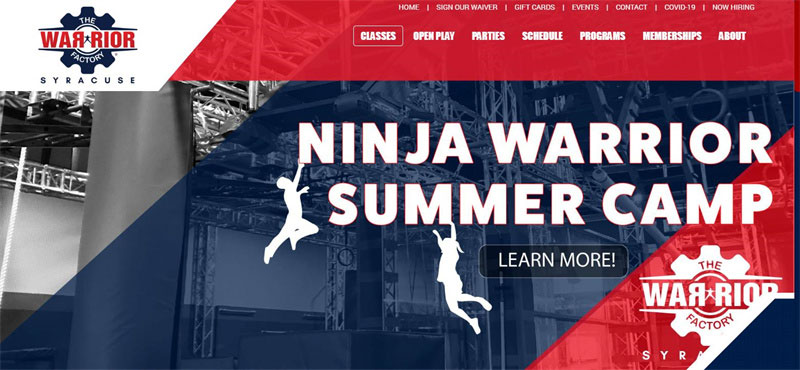 Location: 170 Township Blvd, Ste 20, Camillus, NY 13031
Website: https://www.syracuse.thewarriorfactory.com/
Contact number: (315) 468-7961
Email Address: syracuse@thewarriorfactory.com
The Warrior Factory Syracuse is a huge 6,500 sq ft obstacle park that offers membership and franchise to anyone interested in getting a ninja course park. This ninja course factory offers a challenging and at the same time safe environment for children and adults who visit their facility.
They offer different obstacles fit for all ages not to mention an area for parties, competitions, special events, and team building. For the Warrior Factory Syracuse, everyday is a challenge with its range of obstacle courses.
If you have the interest to get a ninja course playground, a franchise to The Warrior Factory Syracuse is a good idea.
2. Ninja Factory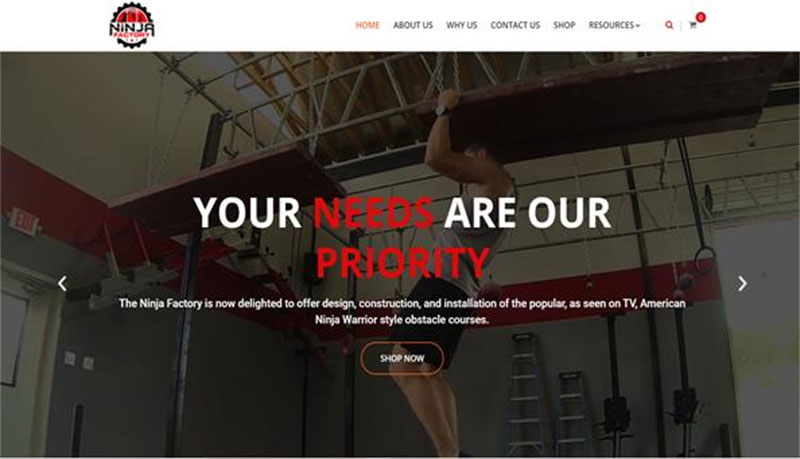 Location: 5555 Elmwood Ave. Suite G Indianapolis, IN 46203
Website: https://www.ninjafactory.com/
Contact number: 765-426-3719
Email Address: contact@ninjafactory.com
Ninja Factory is a ninja course manufacturer that is dedicated to providing the best experience to all of their customers. They offer construction, design and installation. Ninja Factory takes pride in providing a ninja warrior course as seen on TV in the American Ninja Warrior style.
They also have completed over 150 American Ninja Warrior Style courses using the latest advancement in terms of technology to make sure everything they build is safe and accessible.
3. Airparx

Location: Duel House, Llandowlais St, Oakfield, Cwmbran NP44 7XB, United Kingdom
Website: https://airparx.com/
Contact number: +44 (0) 1179 414918
Airparx has established itself as Europe's largest leisure goods provider. They are not just a mere ninja course factory but a global leader when it comes to manufacturing, designing, installing, as well as conducting maintenance of Family Entertainment Centers that include ninja warrior courses, soft play areas, climbing walls, inflatable parks, and so much more.
They have made deals in more than 30 countries across the globe with more than 70 successful park projects.
4. Adventure Solutions
Location: 8525 Kelso Dr, Essex, MD 21221, United States
Website: https://www.adventuresolutionsus.com
Contact number: 888-997-6694
Adventure solutions provide durable, well-constructed, safe, and aesthetically pleasing playgrounds either indoor or outdoor. This ninja course factory has a long 100 plus years of experience in the field of crafting, designing, creating, and installing indoor and outdoor play areas.
They offer plenty of indoor playground courses such as Ninja warrior, Air Parkour, Ziplines, Ropeland, Sport climb, and a lot more.
This ninja course factory also has so-called project management that allows clients to view the status of their projects. It is their way of giving real-time updates to their clients through this highly innovative technology.
5. United Play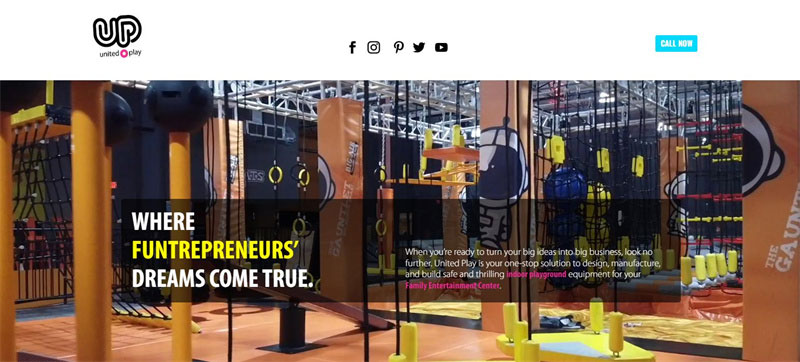 Locations:West Coast: Bob Krause 10911 technology PI. San Diego, CA 92127
East Coast: Dave Wilson 136 Route 10 Suite 271 East Hanover, NJ 07936
Website: https://unitedplay.co/
Contact number: 619-343-3846
Email Address: info@unitedplay.co
United Play is a one stop provider of indoor playground equipment. They design, create and install a thrilling ninja warrior course, trampoline parks, soft play and toddler areas. United Play doesn't stop there, they also offer a fun upgrade to your existing indoor park by adding more fun attractions such as climbing walls, inflatables, high ropes, and zip rails.
United Play has been with the industry for over 30 years and with that long experience, they've already handled so many projects that have helped them build a strong reputation in their line of business.
6. Ninja Sports Manufacturing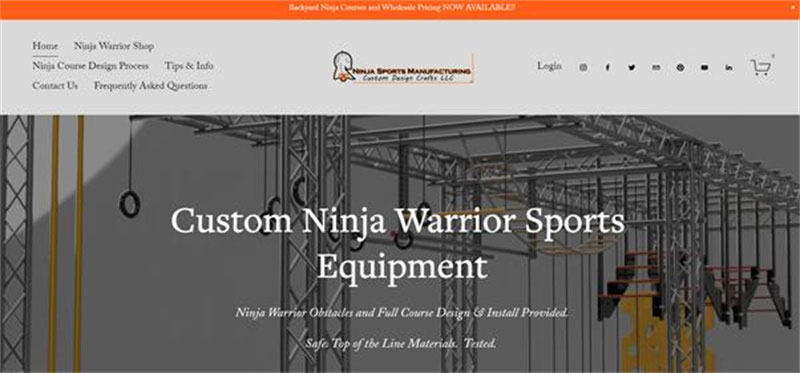 Location: 5770 Asherbrand Dr, Medina, OH 44256, United States
Website: https://customdesigncrafts.com/
Ninja Sports Manufacturing is a US based provider of ninja warrior obstacles that covers everything from designing down to installation. This ninja course factory takes pride in providing top of the line, safe, quality, and tested products.
Their ninja equipment is designed perfectly for kids and adults to focus on the courses and training provided by their product line.
This ninja course factory is also the supplier of America's Ninja Gyms, a ninja challenge franchise. With their vast experience, they are experts in this line of work and have developed trust in all of its existing clients and future clients.
7. Multiplay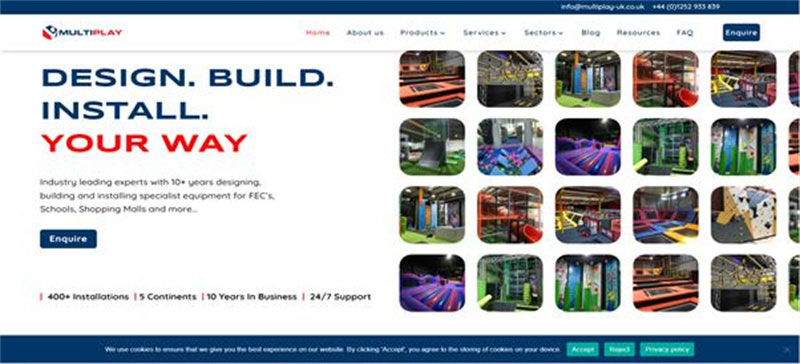 Location: Hillingdon House, 386/388 Kenton Road, Harrow, Middlesex, HA3 9DP, United Kingdom
Website: https://multiplay-uk.co.uk/
Contact number: +44 (0)1252 933 839
Email Address: info@multiplay-uk.co.uk
With 10 plus years of experience as a ninja course factory and provider of play equipment, Multiplay is not just an ordinary manufacturer. They have extensive experience when it comes to installation with over 400 installations conducted on five large continents of the globe.
Multiplay doesn't just offer design and installation for ninja courses but also for soft play areas, trampoline parks, outdoor and indoor playgrounds and a lot more that is utilized for FECs.
With so much to offer, Multiplay is one of the best manufacturers to this date.
8. Dreamland Playground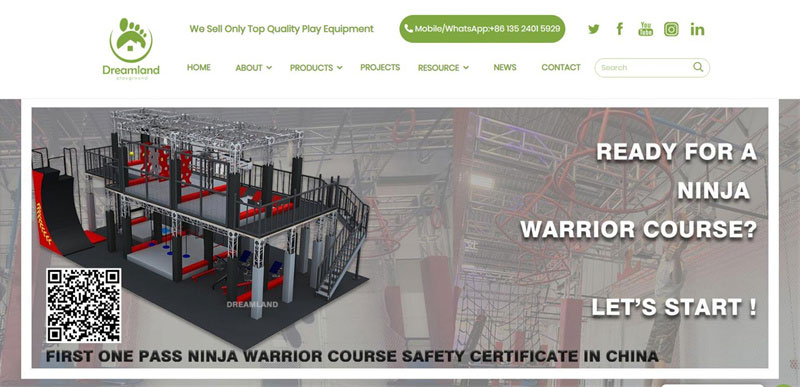 Location: Yangwan Industrial Zone, Qiaoxia Town, Yongjia Country, Wenzhou City, Zhejiang Province, China
Website: https://www.dreamlandplayground.com/
Contact number: +86 135 2401 5929
Email Address: inquiry@dreamlandplayground.com
As China's top Playground Equipment Factory, Dreamland Playground is considered to be one of the best. The company's goal is to refine the well-being of the play industry in this date and in the future to come. With more than 50 countries served and 400 installations conducted, this ninja course factory is on top of the game.
Dreamland Playground offers a comprehensive design down to installation with a turnkey solution that will be beneficial for clients to be able to prepare in their line of business.
Safety wise, Dreamland Playground meets and even exceeds North American and European safety standards in all of its products to make sure everything is safe for children and adults.
9. MJ Playgrounds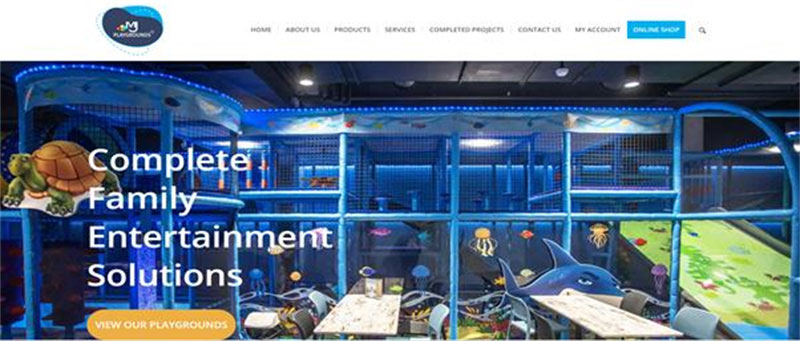 Location: 9/20 Narabang Way, Belrose NSW 2085, Australia
Website: https://mjplaygrounds.com.au/
Contact number: 02 9986 2526
Email Address: sales@mjplaygrounds.com.au
MJ Playgrounds is Australia's dominant supplier of equipment for indoor playgrounds. They don't just specialize on design and installation but they also conduct relocation, cleaning, and refurbishment. Ninja Playgrounds isn't just a ninja course factory but also offers airplay, virtual reality, toddler soft play, climbing walls, and so much more.
With over 18 years of combined experience, MJ Playgrounds has extensive knowledge on this industry. Being Australia's dominant supplier and one of the best manufacturers in our list, MJ Playgrounds offers competent services technology-wise with practical field mastery that ensures projects' success.
10. HighGate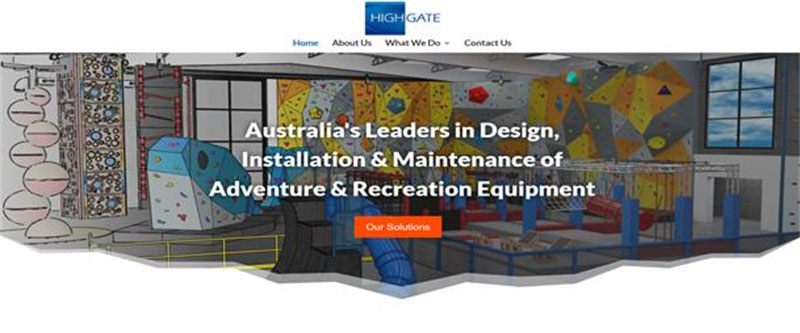 Location: 51/5 Ponderosa Parade Warriewood NSW 2102, Australia
Website: https://www.highgategroup.com.au/
Contact number: 02 9999 0055
Being in the industry since 1996, Highgate specializes in finding the perfect product that fits the requirements of their numerous clients. They offer a handful of solutions from ninja warrior courses to rope courses providing design, installation, inspection, and maintenance.
This ninja course factory and manufacturer is versatile in their offerings. They can provide you with helpful suggestions and at the same time custom design according to what you want and expect.
11. Ninja Warrior Course

Location: Yangwan Industrial Zone, Qiaoxia Town, Yongjia Country, Wenzhou City, Zhejiang Province, China
Website: https://www.ninja-warriorcourse.com/
Contact number: +86 186 7679 5287
Email Address: info@topkidsplay.com
If you are looking for a company that focuses on ninja courses with extensive knowledge on a certain field, Ninja Warrior Course is the perfect go-to. This ninja course factory is TopKidsPlay's branch that is delighted to provide design, manufacturing, shipping and production, as well as installation of your most preferred ninja warrior course.
Ninja Warrior Course offers ninja school, ninja course accessories, the ninja course, and ninja school. They also offer customization with high quality products and with adequate safety certification in the most competitive pricing range.
12. TopKidsPlay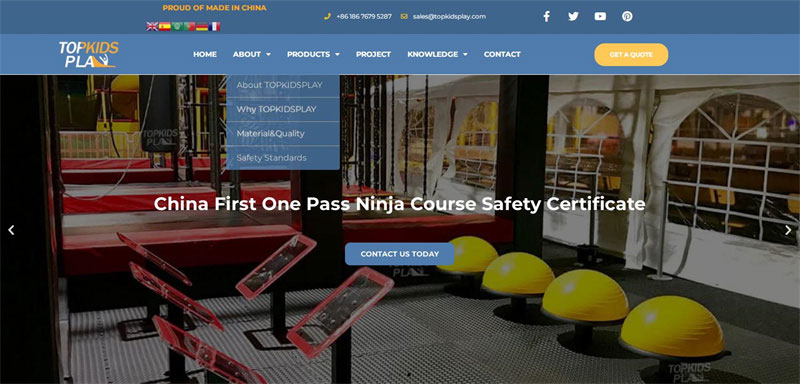 Location: Qiaoxia Town,Yongjia county,Wenzhou city,Zhejiang Province,China
Website: https://www.topkidsplay.com/
Contact number: +86 186 7679 5287
Email Address: sales@topkidsplay.com
With 483 clients in 125 countries, TopKidsPlay has built a name in the play industry. This ninja course factory is the first in China to have obtained a certificate for one pass ninja course. They are proud to bring their client's ideas into reality with high quality products having the most competitive price.
From design to installation, they make you covered.
Since you will be dealing with a direct ninja course factory, TopKidsPlay ensures products are finely done at a lesser price compared to traders.
Summary
These 12 manufacturers exceeded our expectations with their high quality services and vast experience. With so much to offer, they are considered the best in their field and landed their names in our list of the best ninja course factories in the world.