Trampoline Park at the City of Gold
Publish Time: Author: Dreamland Visit: 94
Trampoline parks have become a popular pastime, recreational activity, and even a fitness destination with a lot of significant impact on one's body, particularly in the areas of blood regulation, muscular development, and bone formation.
As a result of this, Dreamland Playground as China's top manufacturer of indoor playgrounds, trampoline parks, and play equipment became an avenue for providing quality, durable, and safe trampoline equipment in the country and internationally.
A client from the City of Gold, often known as Dubai, United Arab Emirates, was one of Dreamland Playground's successful trampoline projects. With this large and prosperous city, the trampoline park business is perfect and excellent to start off. (Photo below shows the design and layout of Dubai's trampoline park).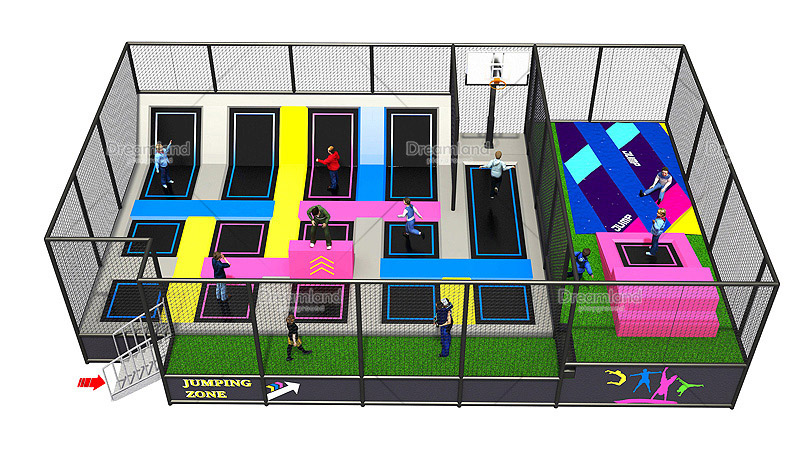 This 130-square-meter trampoline park is located in a fairly accessible position within Avenue Mall. This play area is perfect for everybody, especially children who wish to have a good time. This trampoline park has a variety of attractions in it. They have an adequate trampolining area where kids and even adults can bounce and jump, a basketball area to execute that slam dunk, and of course, above all else, an airbag for optimum safety for all its users.
For all our clients and customers, Dreamland Playground is offering them a free choice when it comes to the installation of their trampoline parks. Because we are aware that the installation is a daunting process, clients and customers can either install it themselves using the installation map, videos, and photos that we will provide or they can request a team of professional installers from Dreamland Playground to do the installation for them.
For this project, the client from Dubai chose to acquire Dreamland Playground's professional installers to complete this project. (Check out the photos below for reference).

This is an excellent option for clients who simply want to sit back, relax, and wait for the output. Dreamland Playground deployed our most trusted engineers to do the installation in this project, and it took them almost 15 days to conclude the job. It was a successful project and our dear client was pleased with the output.
Dreamland Playground which has been in the industry for many years with a range of projects from different corners of the globe is committed to providing quality services including manufacturing, designing, and installing trampoline parks.
Anyone who wanted to start venturing into the trampoline business, Dreamland Playground along with our team is waiting for you and is available to answer all your inquiries. We also offer blogs for your reference to further your learning and to help you understand more about this awesome opportunity, so have a fun read.