Soft Play Equipment in Egypt
Publish Time: Author: Dreamland Visit: 940
Dreamland Playground is a company that supports the needs of all of its clients, we are open to all of our client's suggestions, we help them with what they want and also we make suggestions on what is better for the project. With our vast experience in this kind of business, we are rated as China's top factory for Playground and soft play equipment. We gained that achievement because of what we do and what we offer.
Another successful project we made with our partner client from Egypt is soft play equipment and playground which they call a Jungle gym. Bearing a pirate ship theme, kids will surely enjoy and be entertained with all of the fun stuff and course available within the soft play center. The photo below shows the entire design of this project. This soft play equipment project has a total area of 263SQM with a 3.5-meter height wide enough and conducive enough for children and guardians to enjoy, roam around and create an experience they will surely note on.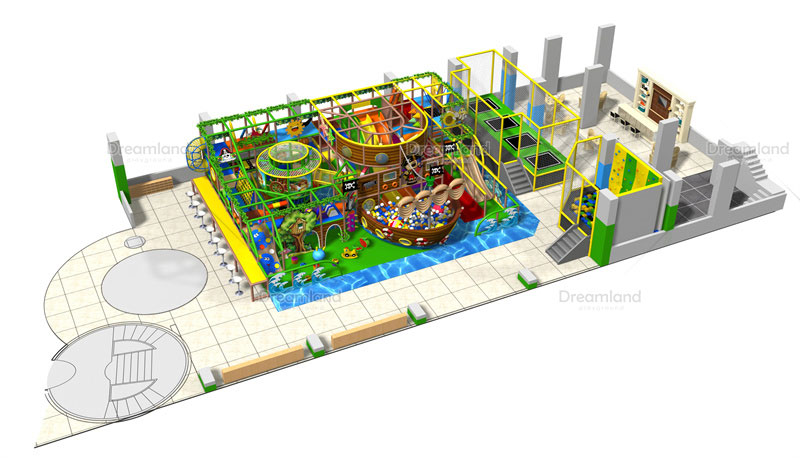 What made this project different from a lot of our projects is the installation. Our clients themselves have decided that they will put themselves in charge of the installation phase. At Dreamland Playground, we value all of our client's choices and decisions, they are free to choose whether our team will do the installation of they will do it themselves. If they choose the latter, we made sure we provide a detail installation map for them to follow a correct procedure in doing the installation.

The photos below show some of the courses included in this project. There is a climbing wall for kids which helps them with their motor skills. Climbing wall increases strength, flexibility, endurance, as well as teach children's hand, feet, and eye coordination. This activity is perfect for kids to enjoy and of course, benefit the body. Another game or course available as seen in the photo is the slide. The slide also is a given enjoyable course and a will agree that children enjoyed doing it. Aside from the fact that it is enjoyable, children can also benefit by stimulating their balance, psychomotricity, coordination, and reflexes. Additionally, children will also understand their bodies and will help them get rid of their fear of falling and know their limits. Safety mats are also included for the safety of all the playing children. These are just some of the awesome games and courses available for this project that Dreamland Playground and our valued client have closely worked for.

Dreamland Playground provides all the information needed through videos, photos, and detailed instructions so that installation will be successful, efficient, and enough to meet all the clients' expectations and guaranteed satisfaction. We also made ourselves always available to answer questions on time and a dot.