Kuwait Candy-themed Indoor Children's Playground
Publish Time: Author: Dreamland Visit: 365
We are delighted to present our latest masterpiece - an indoor children's playground designed with a delightful candy-themed twist, situated in Kuwait. Immerse yourself in a world of imagination as you step into this vibrant wonderland, adorned with captivating shades of pink, sky blue, and purple, all carefully curated to create a magical ambiance for kids to explore and enjoy.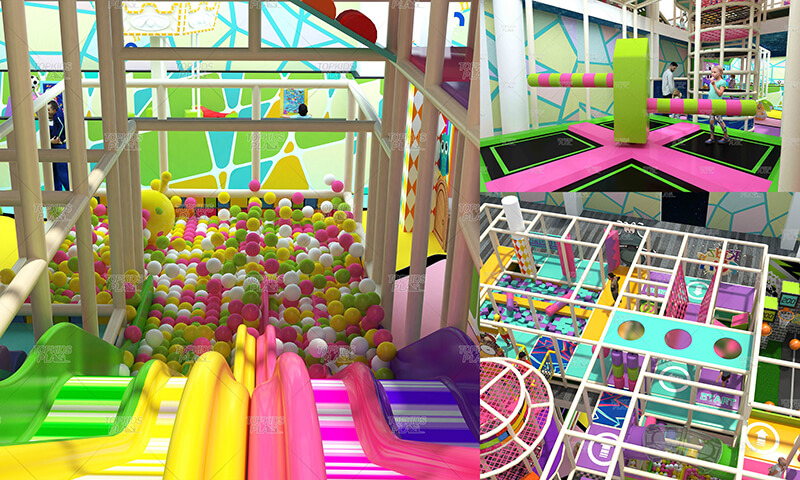 At Dreamland Playground, we believe that every child deserves a space that sparks their creativity and lets their imagination run wild. Our indoor children's playground was painstakingly created to meet the specific needs of kids and provide them with a unique experience.
This indoor children's playground is a delightful medley of attractions that captivate and excite young hearts. From the exhilarating PE board climbing wall, challenging the adventurers to reach new heights, to the engaging reaction wall that tests their reflexes and coordination, each element is carefully crafted to offer a thrilling and memorable experience.
The fun doesn't end there! Brace yourself for the wipeout trampoline, where laughter and excitement abound as kids defy gravity with every jump. Our dynamic slides add excitement, whisking them away on thrilling journeys down colorful slopes.
Our esteemed client has shared glowing reviews from their visitors, who were enchanted by the indoor children's playground's vivid hues and enchanting aura. The candy-themed decor is a hit with kids and parents alike, creating an immersive and joyful environment that sparks a sense of wonder and curiosity.

Dreamland Playground takes immense pride in creating engaging and innovative indoor children's playgrounds that leave a lasting impression on young minds. We are dedicated to realizing our client's objectives and value our cooperation with them. Our dedication to craftsmanship, safety, and creativity has earned us the trust of clients around the world, and we look forward to continuing this journey with you.
If you are an indoor playground equipment owner seeking to elevate your facility with a magical touch or an entrepreneur looking to create a unique space for children's entertainment, look no further. Contact Dreamland Playground today, and together, we can build a world of imagination and joy for children to cherish for a lifetime.