Dreamland Playground Delivers Fun-Packed trampolining park in Barcelona!
Publish Time: Author: Dreamland Visit: 226
We are delighted to announce the successful culmination of our latest trampolining park project, nestled in the vibrant heart of Barcelona, Spain. At Dreamland Playground, our mission is to transform dreams into reality by crafting immersive spaces that deliver joy to individuals of all age groups. Our most recent venture in Barcelona exemplifies this commitment.
With an alluring color scheme of red, gray, and black, the Barcelona trampolining park not only delivers adventure but also elevates aesthetics. The meticulous layout and thematic graphics heighten the overall experience.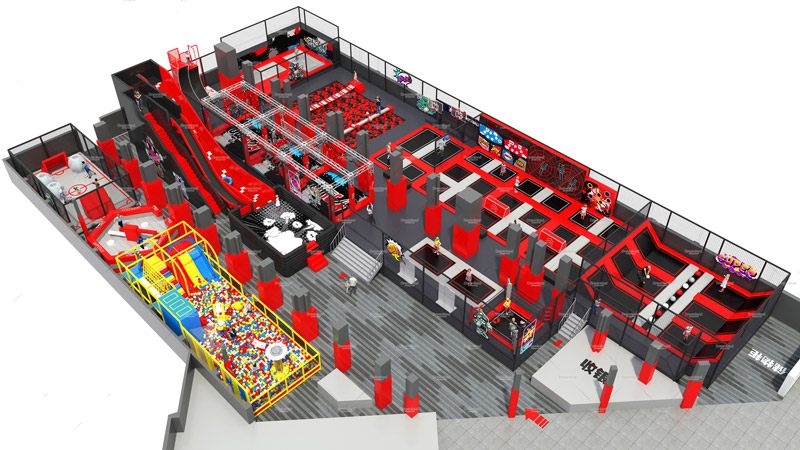 Behold the myriad of features that render this trampolining park a prominent attraction:
Reaction Wall: Immerse yourself in a reflex-testing adventure with our Reaction Wall. This interactive challenge enhances your hand-eye coordination while providing endless entertainment.
Sticky Wall: Prepare to be amazed as you reach new heights using velcro suits to scale our Sticky Wall. The fusion of physicality and novelty creates an unforgettable experience.
Trampoline Parkour: Channel your inner free-runner on our interconnected trampolines, tailor-made for perfecting those gravity-defying parkour techniques.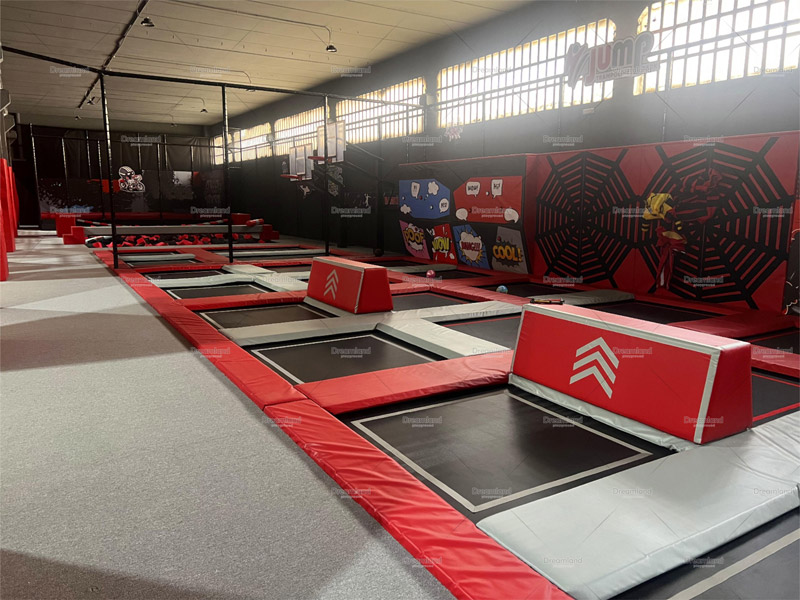 Dodgeball Court: Improve your dodgeball experience with Dodgeball Court, a fast-paced variation of the traditional game. Win by bouncing, dodging, and using strategy.
Valo Jump: Dive into the world of augmented reality with Valo Jump, a cutting-edge attraction that seamlessly blends physicality with digital adventures.
Foam Pit: Pairing it with more equipment adds more playability to the foam pit. Cross the suspension bridge independently, or choose to grab a fight stick with a friend for an exciting showdown.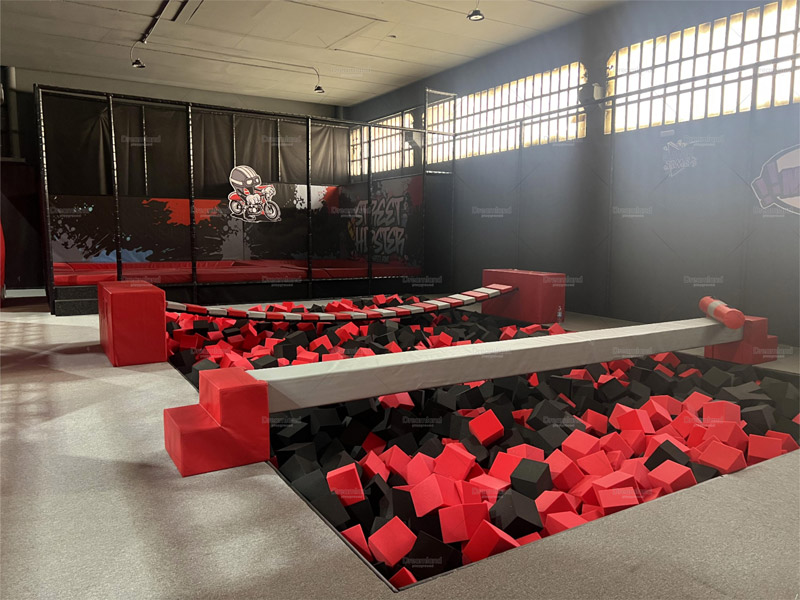 High-Performance Trampolines: Elevate your bouncing endeavors with our high-performance trampolines, where safety harmonizes with excitement.
Ninja Warrior Course: Test your mettle on our challenging obstacle course, designed to encompass strength, agility, and relentless determination.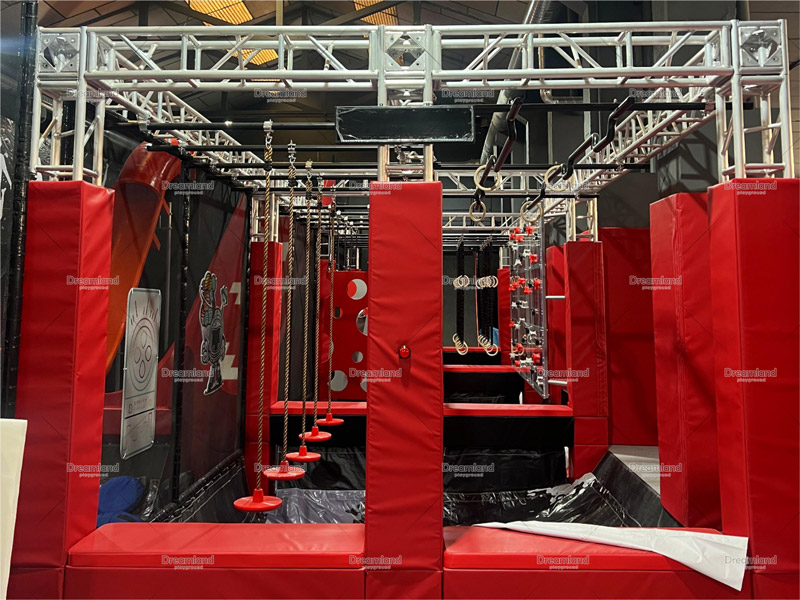 Indoor Playground: Our youngest visitors have a dedicated area to relish, offering a safe and dynamic environment for exploration and play.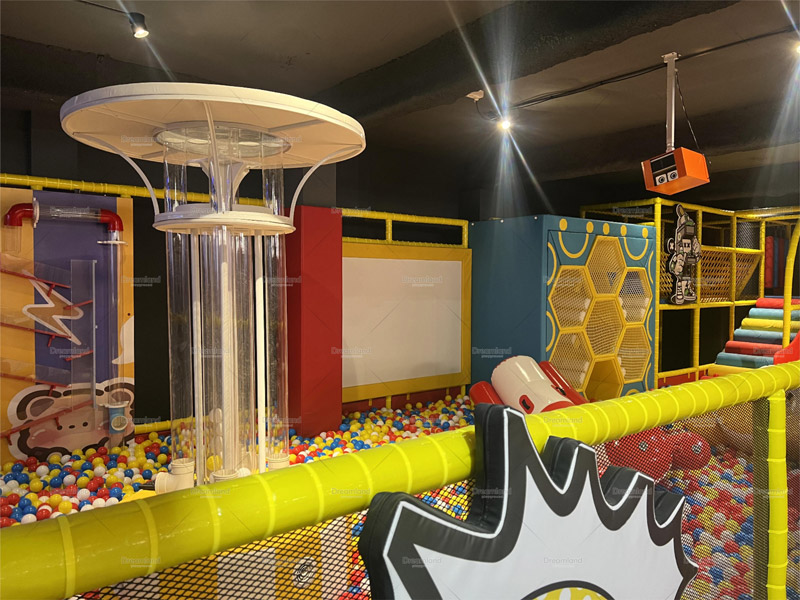 Wipeout Machine: Challenge your coordination and equilibrium with the Wipeout Machine, an entertaining trial of balance.
Bubble Soccer: Engage in a spirited game of bubble soccer, where you'll tumble, bump, and aim for those inflatable goalposts.
Donut Slide: Embark on a thrilling journey as you twist, turn, and zoom down the Donut Slide, a delightful addition to your day.
Installation process
Our accomplished team at Dreamland Playground is exhilarated to share this remarkable project with you. Whether you possess a fervent passion for amusement and recreation or have long nurtured a vision of establishing your trampolining park, we extend an invitation to collaborate with us. Our proficiency in designing, constructing, and customizing trampolining parks can bring your vision to life.
Contact us to usher endless enjoyment into your community. Anticipate further updates as we persist in expanding the horizons of adventure.