New trampoline park opens in East Idaho
Datatime: 2017-07-24 Visit: 430
New trampoline park opens in East Idaho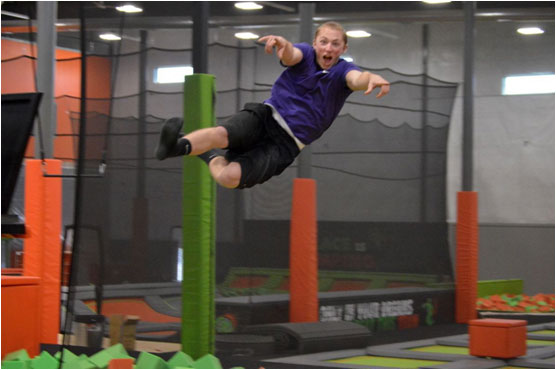 REXBURG — There's a new park in town. It's indoors and covered with lime green and bright orange trampolines.
The new Gravity Factory, located at 165 Airport Road in Rexburg, has opened for the public.
The Gravity Factory's colors were chosen specifically to represent energy and activity at a time of day when everybody's done with school and work and ready to recreate, said manager Sam Lloyd.
"Orange represents after school and sundown. The green represents the liveliness of youth," he said.
The colors are also meant to quickly invigorate people as they walk in.
"It has a very lively feel. It gets your blood pumping so you feel like you're jumping a little bit more," he said.
Unlike traditional backyard trampolines that are held up several feet above the ground, these trampolines cover the floor and walls at various levels throughout the facility.
"Everything is on at least a 3-foot raised platform. Some of the areas are even higher than that," Lloyd said.
The entire first floor of the 25,000-square foot building is covered with trampolines. It features a "cave" for very small children to bounce in, as well as neighboring party rooms.
There's also a kids' jumping area for children 46 inches and under. It includes a padded balance beam where visitors can compete with one another.
"The idea is to go up on the balance beam and try to knock the other person off," Lloyd said.
The park also features a foam pit and a rock wall to climb.
"You don't need a pulley system. When you're done, you drop off into the foam pit," Lloyd said.
The park comes with what Lloyd calls the "Big Open Area," where youth can practice their gymnastics.
"Our last and probably our biggest is our ninja warrior course," he said.
There's also an extreme dodgeball arena. On the far southwest corner of the first floor, the park has a slam dunk basketball section, with the tallest hoop being 12 feet high while the shortest is 8 feet high.
"It's all done via trampoline," Lloyd said.
The facility also comes with a virtual golf course.
"We're right next to the golf course. You can't golf during the winter, so golfers can come in and can do their virtual golf," Lloyd said.
The second floor encompasses 8,000-square feet and features a lounge that overlooks the park.
"If you're a parent, you can see where your kids are," he said.
Gravity Factory officials also plan to host yoga, kickboxing and Zumba classes in the mornings. They are looking for instructors to teach those classes.