Indoor playground turns exercise into play for kids
Datatime: 2017-07-28 Visit: 575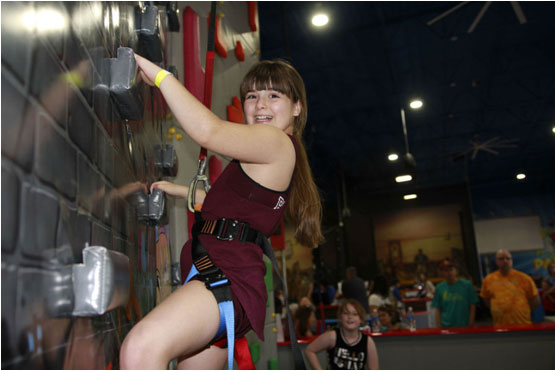 Screaming kids running around, jumping and bouncing.
That's music to the ears of David Allen, general manager of a new indoor playground called Urban Jungle Fun Park, at 5741 E. McKellips Road in Mesa. The play place opened in March and has been busy ever since. The first Urban Jungle is in Santee, California. The Mesa location is the company's second.
"We were looking at California, Arizona and Nevada for a new location," Allen said. "We wanted to move into a warmer climate, where we knew we'd have business in summer."
The giant playground, at 18,000 square feet and three levels, is filled with places for kids to explore.
The Urban Jungle website describes the indoor playground as a "metropolis packed with a multitude of adrenaline-filled activities built for kids of all ages."
"We have about eight rock walls, a ninja course, punching bags, pogo sticks, three slides," Allen said, listing only some of the play spaces.
A special location for toddlers is located behind a tall door with a latch high up so only a parent can reach. That way, toddlers don't wander off.
Allen said Urban Jungle covers everything in padding for protection.
"We try to make everything soft, because that limits accidents as much as possible," he said.
"The only crying we see is because kids are being taken home and don't want to leave."
Kids are playing and learning at the same time, he said.
"We like to think the kids learn life lessons here," Allen said. "They come back and try again, like with the climbing wall."
As he was giving a tour, Allen pointed to a girl all rigged up to climb.
"I told that girl that if she could make it all the way up, I'd give her some free passes. She's been trying all day. She doesn't want to give up.
"Our employees try to encourage every kid like that," he said.
Just then, a child dropped down a slide.
"Awesome! Yeah!"
One girl walked by and told Allen, "You should have a spaceship!"
Like most indoor play places for kids, Urban Jungle can host birthday parties.
"We can have about 38 birthday parties in a day," Allen said. "We have three rooms and a VIP room. One-third of our business is birthday parties."
But parties and free play days are only extras. Urban Jungle has a bigger goal in mind.
"We want to get kids off the couch and stop the computer games," Allen said, emphasizing the exercise part of the playground.
Eventually, Urban Jungle would like to introduce some high-tech to the experience.
"We're going to try something called FitPlay," Allen said.
According to a statement from Urban Jungle's CEO and founder, Bob Krause, "Our goal is to merge together a dynamic adventure park with our innovative FitPlay program that provides adrenaline-filled physical challenges, high-intensity cardio activities and agility-based obstacle routes, tunnels and courses, adapted for every ability level, that promotes health and fitness while having fun."
What that means is Urban Jungle will eventually monitor kids' play and see how to they can get more healthful exercise out of it.
The kids will wear body suits and will play for 90 minutes. They will be monitored for heart rate and calories burned. When they see the results, Urban Jungle hopes kids and their parents will be encouraged to play more.
Urban Jungle opened at spring break in March.
"We did a lot better than we thought," Allen said. "We were hoping for 1,500 to 2,000, but we were getting 3,000-plus in a day."
"There are a lot of return visits. I've seen a couple of families come by three times in a week."
Monday through Friday, prices at Urban Jungle run from $10 for 60 minutes of play to $14 for 120 minutes. On Saturday and Sunday, it's $12 for an hour to $18 for two hours.
Kids 3-12 seem to be the primary customers, but teenagers are coming in to enjoy the atmosphere, too. Some parents climb into the spaces to play with their kids. They play for half price.
Another family-friendly option is a parents' lounge all the way in back. Three massage chairs, sectional couches, three TVs and free Wi-Fi are available for waiting caregivers.
Kelly Hillis and Joy Galati, friends from Christ's Church of the Valley, were relaxing in the parent room in back as their kids ran free. Hillis brought her children Ashlyn, 8, and Trent, 6. Galati brought grandson Noah, 6.
"I like to get them out to exercise," Hillis said. "We usually go to the zoo or the park. This will be good for summer.
"They're not going to get bored."
Galati agreed, "This is wonderful. Especially when we found this room."