What Is The Most Popular Playground Equipment?
Publish Time: Author: Dreamland Visit: 243
Fancy-colored Playgrounds of all types (indoor as well as outdoor) provide children an opportunity to play because they attract the imagination of kids and get the wild. They play an essential role in kids' development.
Being an umbrella term, playground equipment offers a variety of recreational activities to play freely in indoor as well as outdoor playgrounds.

Owing to the number of playground equipment available in the market, it is a daunting task to choose the right product. This post will provide you with various considerations and features to make the right decision!
In this post, you will find all the essential information regarding the most popular playground equipment, its types, and many more. Just stay tuned with us.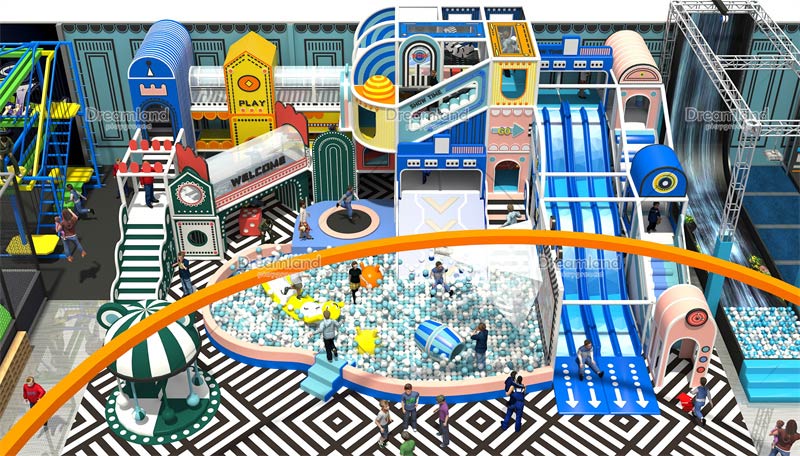 We Have So Many Options: Matching Age to Equipment
Selecting playground equipment, the first thing you consider is age appropriateness. After reading the post you realized that playground equipment varies from age to age.
There are multiple park systems in our range with smooth surfacing materials along with an adequate technological solution. You can take our custom-themed indoor playground for a family entertainment center.
Our different play sets encourage team building and custom modular systems offer interchangeable accessories. We ensure playground safety and this playground safety compels our customers to make our creative playground part of their homes.
We provide supervision guidelines specifically for age-appropriate equipment to avoid any injury or damage...
What to Buy For Toddlers to Age 2?
For children aged 0-2 years, the most important thing is safety and safe equipment which should match the safety standard. In addition, infants under age 2 are fascinated by bright colors, so equipment belonging to baby parks should fascinate the infants along with physical activities.
Baby Park should provide physical and movement-based activities like rolling, jumping, climbing, running, crawling, etc. Try to give your kids safe play with our soft indoor playground equipment specifically made for them.
Recommendations: Wall Panels (hot), Gymboree Series, Plastic Ride Horses, Tunnel, And Slide Soft Play.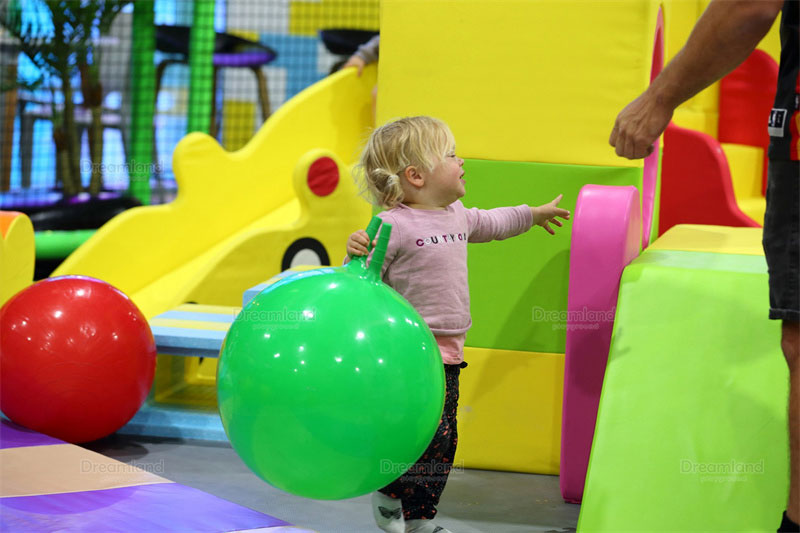 What to Buy For Preschool (2-5 Years)
Preschoolers are more flexible, balanced, limber, and confident in movement. They are eager for new tricks and take on new challenges. So you can keep the children of this age busy and engage in bone-chilling days.
Recommendations: Electric interactive (Coconut Tree, electric bicycle, and drum), Crochet indoor playground equipment.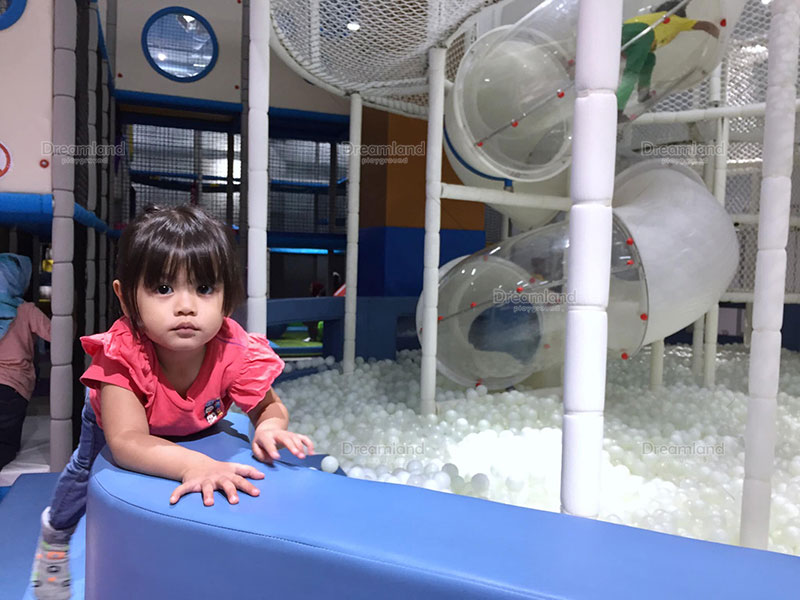 What to Buy For Elementary (5-12 years)
Children under age 12 are close to learning new skills, experiencing new challenges, taking broader steps for their body awareness because they are energetic, active, and agile.
Through different games, you can relieve their study stress because playing is a stress-buster. It is the time to bring your kids out from the mobile fog in some real physical activities. As these games are essential for kids' mental and physical development.
Recommendation: Popular theme: Ninja School; Popular games: Shooting Game, Projector ball pool and slide, Sand pool, Spider Tower Race, Rope Course.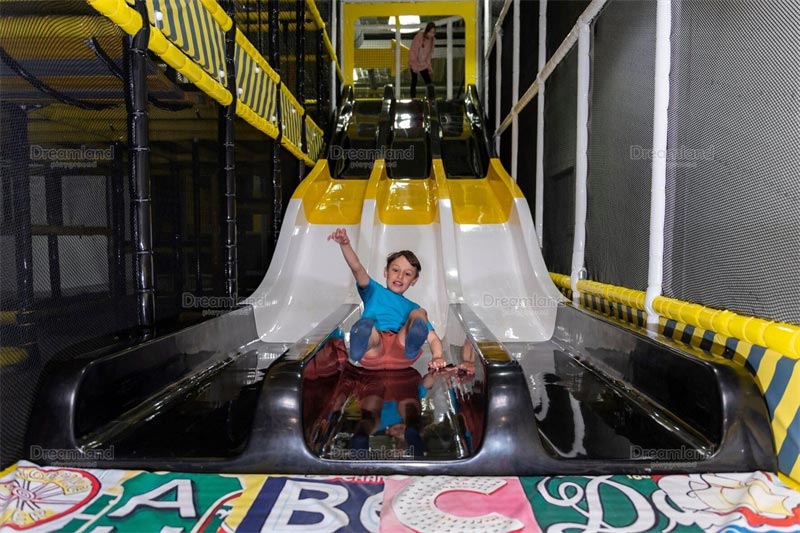 What to Buy For Teenagers (12-19 years)
Teenagers have no exception to visiting indoor playgrounds. There are some adventurous stunts that will develop their critical thinking, strengthen their muscles, and make them strong physically. These stunts like physical activities are necessary for their development. These indoor games can be adjusted in schools and colleges.
Recommendations: Trampoline Park, Climbing Wall, Ninja Warrior Course Equipment, Sky Ladder, Zip Line, Sky Rider.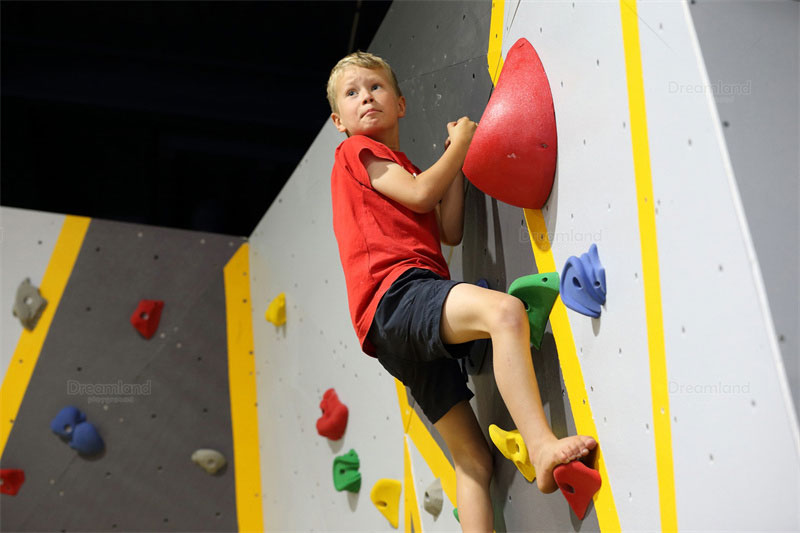 What to Buy For Handicapped or Wheelchair-users?
We care for disabled children as well. We will offer inclusive playground equipment for special kinds of kids (like handicapped, disabled, Impaired children, etc). And we do our best to design easy-to-ride play equipment for them. We customized the swings and themed playgrounds according to their ease and facilities. Just order us and receive your equipment to please special kids. Our all-inclusive products meet the standard of the Americans with Disabilities Act (ADA).
Recommendation: Inclusive Playground Equipment custom castles with ramps and pirate ships, wheelchair merry-go-round, carousels, and other molded swing sets with extra harness.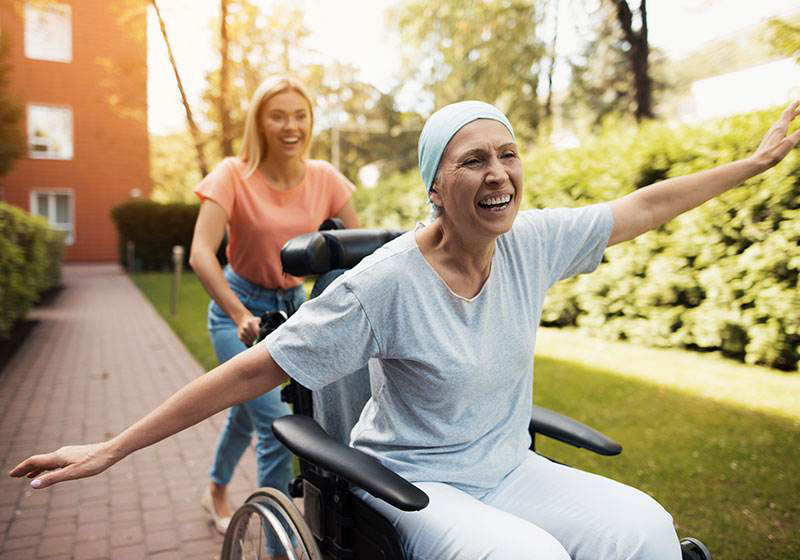 Popular games for toddlers to age 2
Baby Park
Baby Park is produced for your dear little ones, where they are served with different creative activities like wavy slides, climbing ladders, rock wall, tire swings, to bring their creativity and hidden talent out. Just make your itty bitty kiddos pro playground climbers by choosing the right pieces of playground equipment.
The entire playground is not specifically designed for kids but for parents too. It is a place where parents can socialize, drink, eat, and even work if their kids are pampered. If you do not want to visit any indoor playground or community playgrounds, you can set your baby park at your home too.
Just stay engaged in your work activities and let your kids enjoy and have fun. You can set baby Park anywhere in your house, be it a specific room, a corner of the living room, or before the kitchen, choosing an appropriate place is your decision.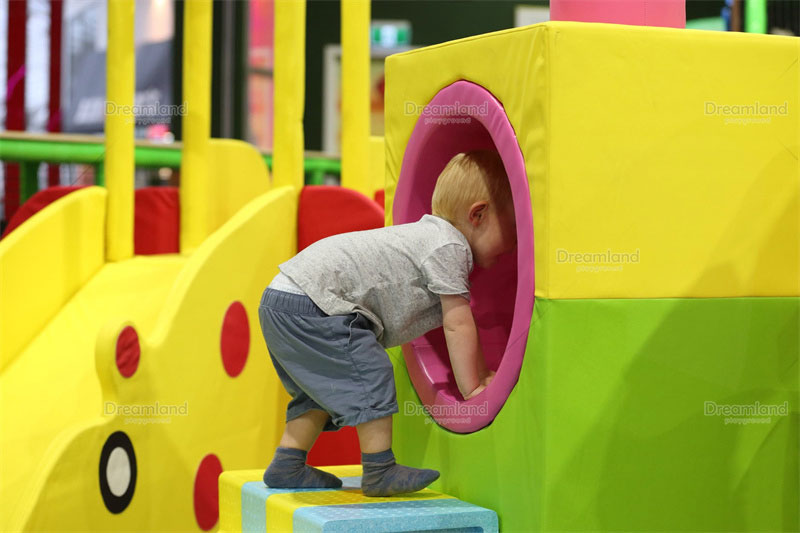 Wall panels
Wall panel soft play can be adjusted in classrooms, waiting rooms, and kids corners. Wall plays are effective because they provide a lot of fun to children. It can be combined with numbers, mosaic tiles, bricks, and letters.
There are geographical walls too including four continents: Asia, Europe, Africa, and America. Kids adjust it to bring their home first. It is space-saving and brings fun and learning together for your kids. Wall panels hardly occupy any space yet it provides lasting pleasure to toddlers.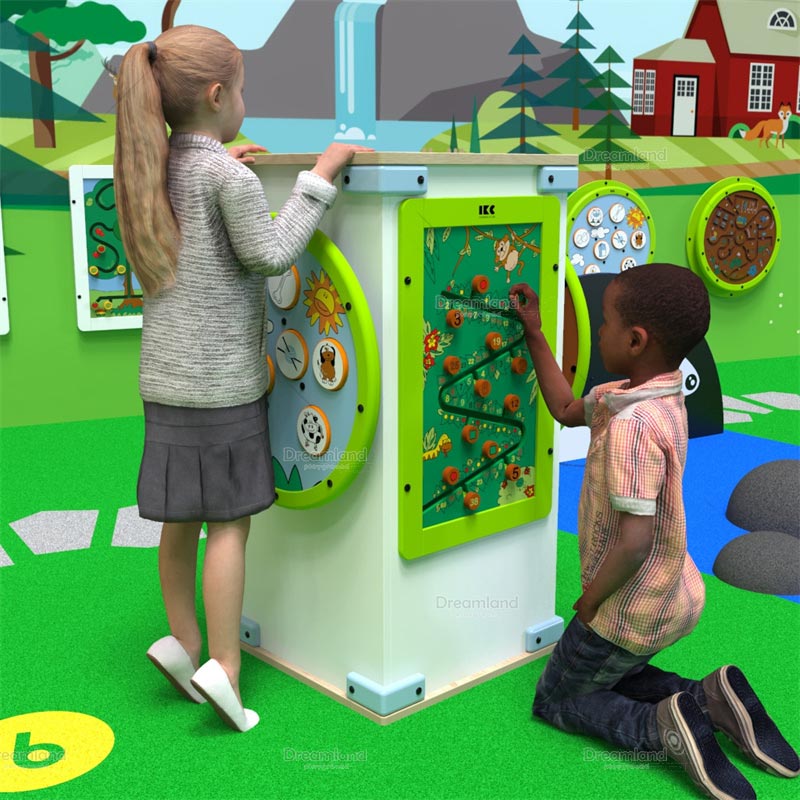 Gymboree Series
Similarly, Gymboree provides confidence to your kids and offers every facet of kids' development. In the Gymboree educational series, your kids learn to play with different playsets. Gymboree includes climbing Ramp, climbing arch, ladder, slide, foldable triangle, and climbing rocks, etc.
Folding characteristics allow you to mold the triangle into different shapes. From triangle to cube, rhombus, rectangular, or in any other shape, your kids like. Soft mats throughout the infant room prevent injuries. Gymboree not only provide physical activities but also sensory activities. Here are the monkey bars too which can be adjusted according to the kid's height. Indeed a perfect infant room where they can play, explore, hide, and even make new friends!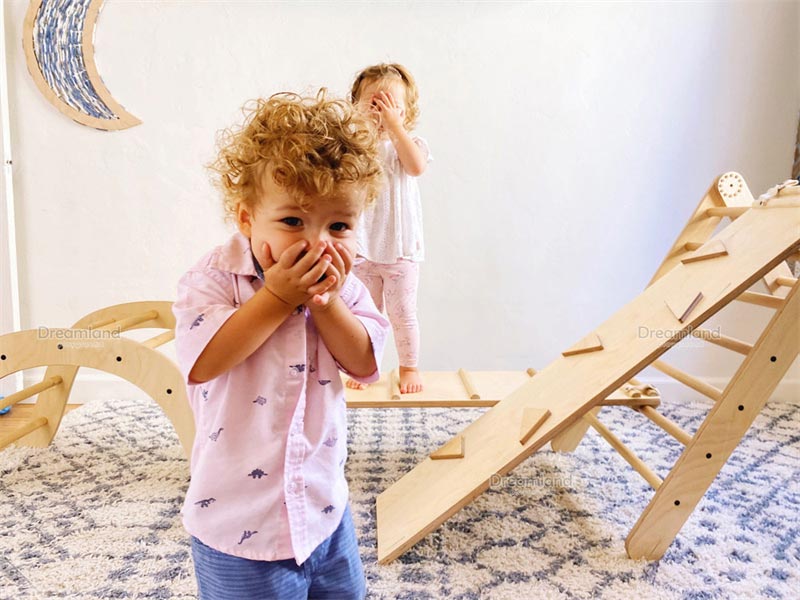 Plastic Ride Horses
If your toddler is too shy or frightened from swings set then you can place them on plastic rides along with your arm to avoid falling. Rocking attributes attract children of age 8'9 too. Rider animals can be rabbits, horses, along with classic colors, etc.
Tunnel And Slide Soft Play
This tunnel offers great ins and outs experience to toddlers. Indeed, it is a colorful haven for toddlers where sometimes they hide under the tunnel and at the other moment observe the playground when they reach the ground level.
These tunnels are designed with bright colors to add a panoramic look to the playground. It gives the perfect environment to discover and explore new ways to fulfill their imagination and fantasizes. This tunnel and slide are safe and secure for all ages kids up to 2 years.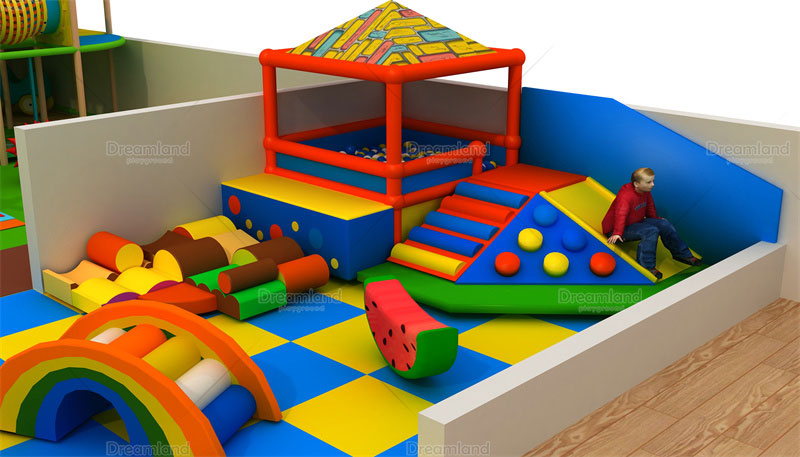 Popular Games for preschool(2-5 years)
Electric interactive Soft indoor playground
We offer a lot of soft play equipment which you can use in indoor commercial playgrounds or as a stand-alone at your office, homes, school playground, or in the community. These soft plays are great investments for your kids.
Kids love merry-go-rounds swing sets due to their music carousel features. Even toddlers can feel comfortable and basically, merry-go-rounds are designed for preschool children. Baby swings are best for your babies. Some push and some rides.
Be it community playgrounds, school plus homes, playground for toddlers, specifically playground specific park equipment like baby swings, tire swing, climbing ladder, rope swing can be installed with great safety.
Your kids can utilize movement and sound with our playground games to boost up collaboration and cooperation in an interactive way.
Besides, there is plenty of other play equipment for your kids. Just select your desired product and install it in your home, supermarket, shopping center, and so on. Their electric music compels the kids to enjoy the music and rides together.
Electric swinging boxes
Electric piano
Electric treasure ship
Electric merry-go-round
Coconut tree shape indoor electric equipment
Electric crown
Electric bicycle and drum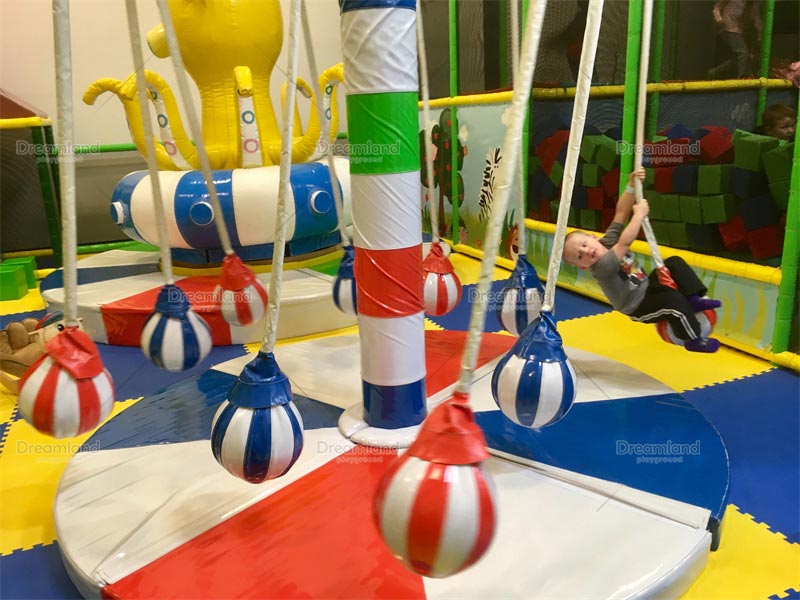 Crochet indoor playground equipment
The Crocheted indoor playground was introduced by a Japanese artist to amuse the kids. It is designed with vibrant and bright colors. Children get engaged with art by playing on it. The Crochet includes colorful nets, cushions, swings, and pockets to hide and explore things.
It can take multiple kids at a time to engage with each other. This creative Crochet brings joy and laughter to kids where children climb and play. It provides plenty of routes to adventure or explores. It can be fixed on walls, beams, trees, or existing structures. It is not ideal for seizure-prone users or kids!
We designed a customizable Crochet net according to your instruction with bright colors along with your logo signature!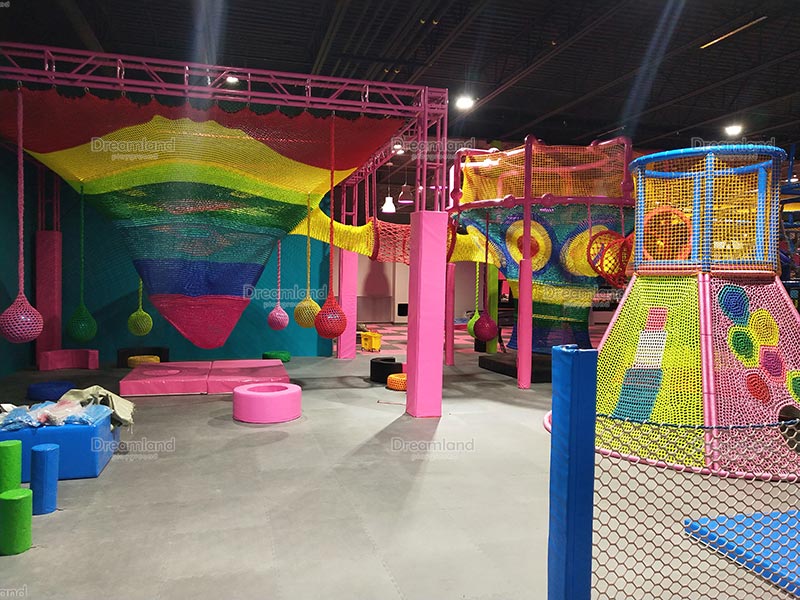 Popular Games for Elementary(5-12 years)
The Most Popular Theme– Ninja School
Ninja equipment is for aged 3 to 12 years school kids. Ninja course can be used as school playground equipment By visiting ninja park your kids will get social, cognitive, motor, and physical skills such as eye and hand coordination, movement patterns, and most interestingly fun ambiance. Do you want your kids to be ninja warriors?
With the combination of Obstacle training and Parkour skills, your little ninja will develop their fitness, coordination, confidence, attitude, and flexibility that last for a lifetime. It has many advantages for your little ones. With passing time, they will strengthen and achieve the Pro level!
It provides a variety of movement-based activities like rolling, jumping, climbing, running, crawling, etc.
Obstacle course promotes problem-solving along with coordination abilities.
Your mini ninja will feel happy, satisfied, and comfortable after completing the challenges!
Develop the fitness to be like a true ninja.
Through climbing obstacles, upper body strength grows.
Our indoor playground provides a safe and inclusive environment to create your own ninja warrior dreamland journey. It provides an inspiring way to get fit because our Ninja Park combines with a ninja playground and fitness.
We have all about the Ninja warrior course including jumping, climbing, and flying around obstacles which are no doubt challenging for your kids. And these obstacle courses will make your child a wise and strong boy.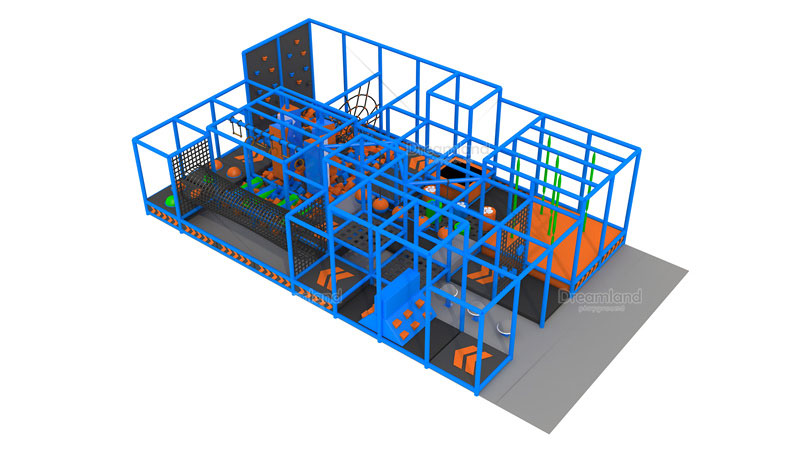 Theme Playground
As we all know children have big and much bigger imaginations or want their imaginative play to be real around their play world.
In this digital fog world, where children have engaged in radio and checkbox elements along with social media icons activities, it is hard to let them be physically active in games like monkey bars. It is time to leave the screen reader mode and to visit the theme playground.
In this screen reader users' content along with accessible rich internet applications, the essential part is to have enough new classic items to please the kids. Here we are going to list some interesting games.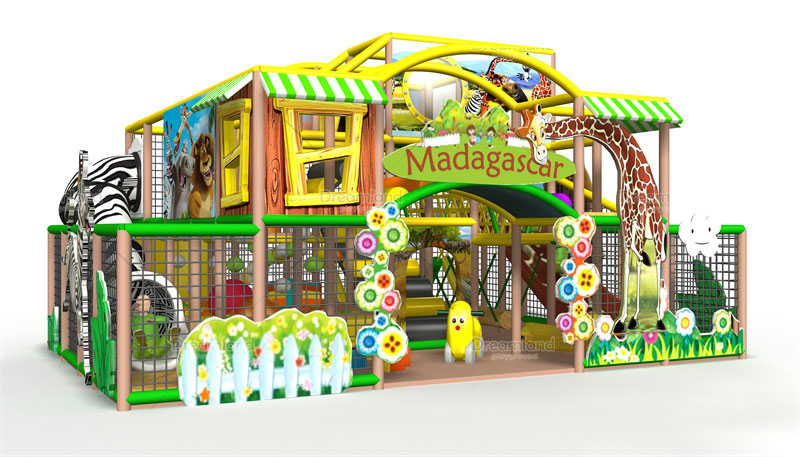 Shooting Game
Indeed, shooting games are fun for all ages, and even toddlers can operate the gun due to its versatile one-place sticking features. It is a place where kids can knock down the cups with their target aim. It's easy to fill, easy to load, and attributes attract the kids to do some action stunts.

It is an awesome battle fun for all types of kids, as they are fixed so even disabled children can take the advantage to enjoy it. It is family fun, children's indoor activities have fun for everyone. Boys even can start a competition with this shooting fun with their friends to win the game.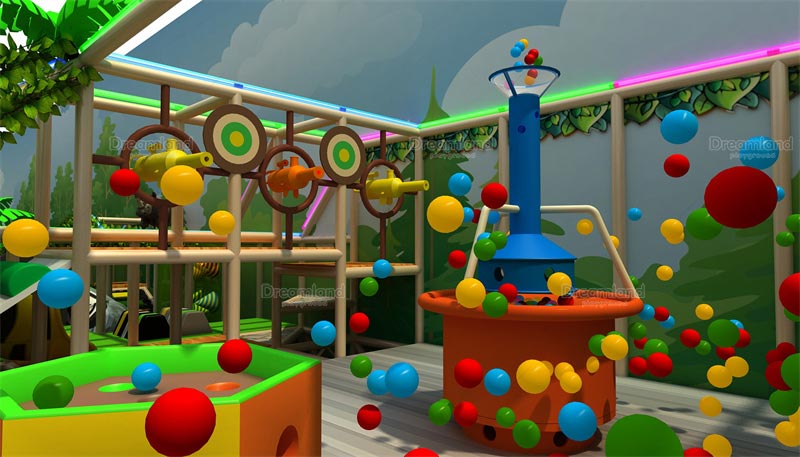 Projector ball pool
Plastic balls are very fascinating for kids because they are inexpensive, readily available. Children enjoyed rolling, kicking, catching, dribbling, and tossing plastic balls.
Projector ball pool is an innovative ball throwing game with a multimedia system. Kids start striking on the screen and the screen shows the awesome result. Playing with balls not only improves kids' motor skills but also hand-eye coordination, timing, which play an essential role in toddlers' developmental progress.
The games
Owing to the upgrade solution of the traditional ball pit, it is the best choice for your kids by having multiple 2D /3D theme games along with dual-play mode which develops the physical strength of the kids.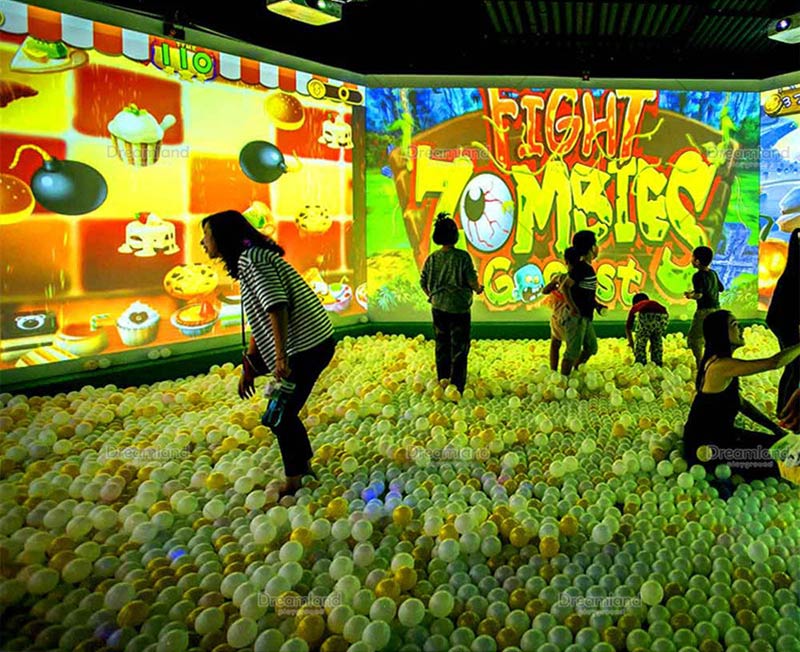 Projector slide
Projector slides are another big investment for your kids. It is also called a child interactive projection game due to its 3d projection.
Children play on the slides and beneath the slide, there are multiple entertainment items. Sometimes jungle themes appear beneath the slides and at other times there are stars. Children try to catch their favorite animals, stars, bails, etc.
Changing slides after one another engages the children's attention. It is best to teach them through projector slides due to its eye-catching attributes.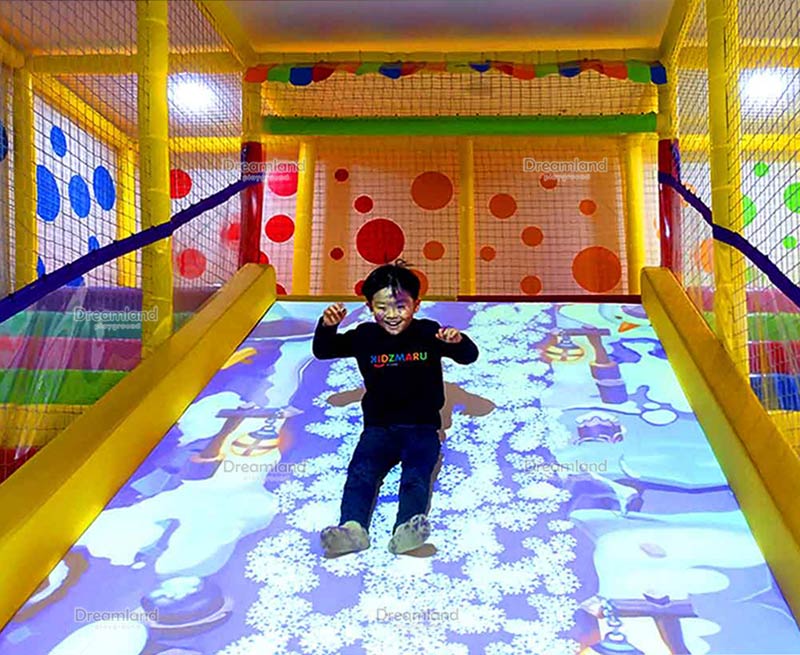 Sand pool
Being the next backyard trend, sand pools bring the beach to your backyard. Whenever you are on the beach with your kids, they start making sandcastles, because kids love sandcastles! If your playground has sandboxes for kids, then it will surely bring the kids' creativity out and improve their mental growth.
Amazing, isn't it?
Well, you can build a sand pool in your house if you are not living near the beach. As the sand of the pool is not hot therefore it cannot hurt your kids, even elders can take bath in the sand pool. It has no ladders to enter due to a soft ramp. What you are thinking, just rush, buy and install it.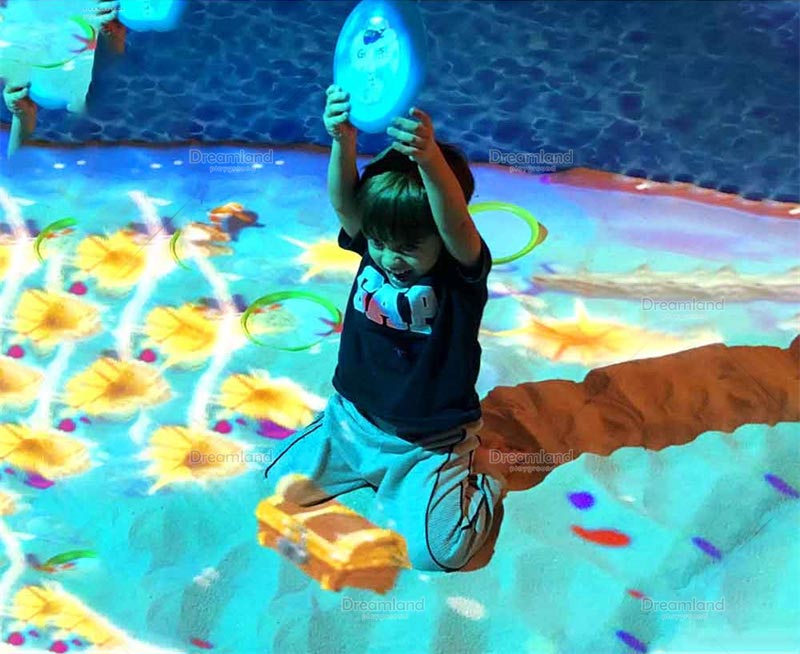 Spider Tower Race
There is another new attraction for kids in the indoor playground is the spider tower slide. Although, its height is maximum yet it can be adjusted according to the playground height. It not only hooked up kids but older children as well.
Being the top destination, kids climb via the interior of the tower. On the top kids hit the slide in waves. It can be customized in terms of size, colors, and themes. Moreover, you can connect it to the rest of the indoor playground modular via tunnels, Bridges, and tubes, etc.
Ropes Course
Just reach our increased hang time with next-level obstacles over the rope course. Learning the Ropes was never a daunting task. It is the game that tests your kids' agility, quickness, speed, balance, and power.
Its high or low stakes take you above and on the ground. Just bring the stamina to win the course under the arcade game room. You can choose your desired obstacle with unlimited time, meaning no time restriction. Before mounting just ensure security and you should be securely harnessed.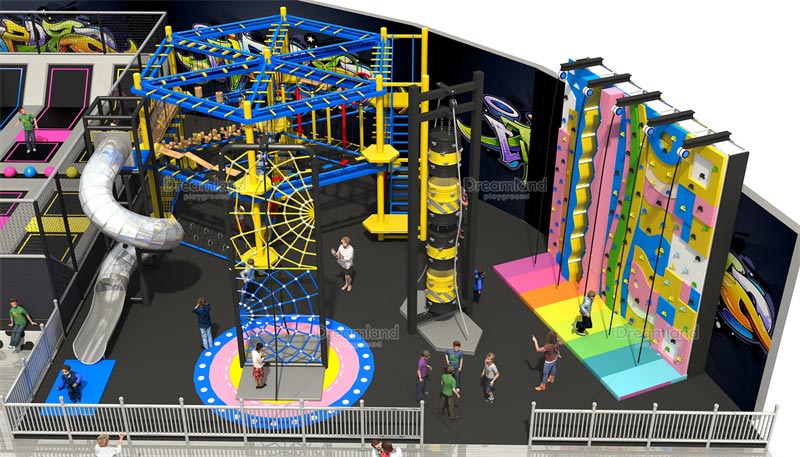 Popular Games for Teenagers(13-19 years)
Trampoline Park
Today's kids are under great pressure of study and family, they need a place to release their burden. Fortunately, Trampoline parks give younger kids and other children along with older children a chance to ease themselves mentally as well as physically.
As we all know, trampoline parks provide fierce activities and games. If your children want to be fierce fighters then trampoline park offers versatile fighting activities. There are new stunts for your teenagers to check their energy, agility and sharpness.
As for my concern, Trampoline Park is suitable for all kinds of kids, youngsters, and teenagers as well.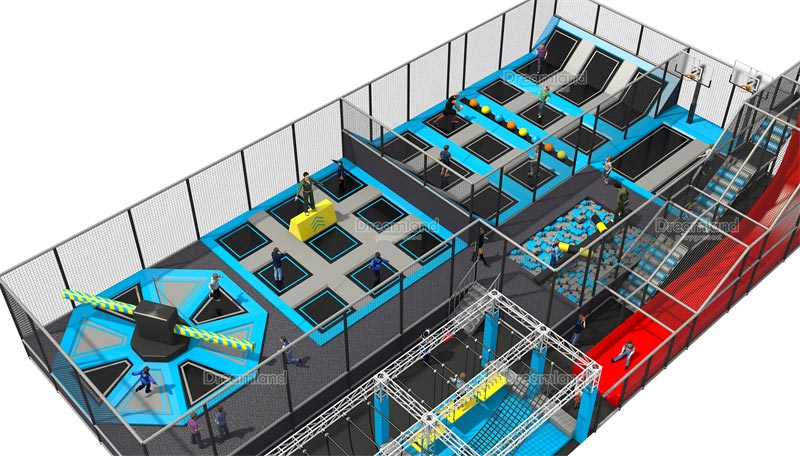 Dodgeball
In dodgeball, the funniest sport of all ages is welcome to your kids because all kids love experiences. Once they learn pro dodgeball they will never play normal again. Just pick games and let 'em fly.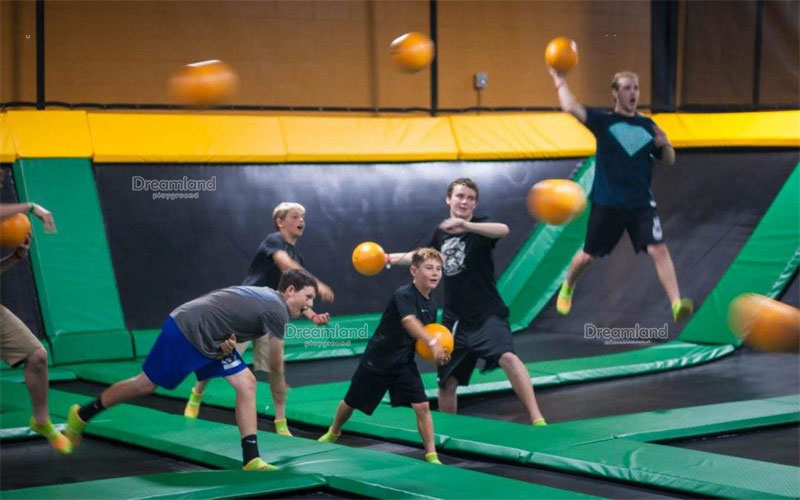 Foam Pit
Why not test your wildest trick there before going to soft foam cubes. Foam pit brings you close to the clouds. Viola!
No matter how inexperienced you are, how small and immature skills you have along with unpolished skills, the foam pit just gives you a reward of a giant hug on every attempt.
A foam zone is a place where you can climb out after jumping into a foam pit. It is the best place to practice and improve your giant jumping skills. The game is ready and awaiting you!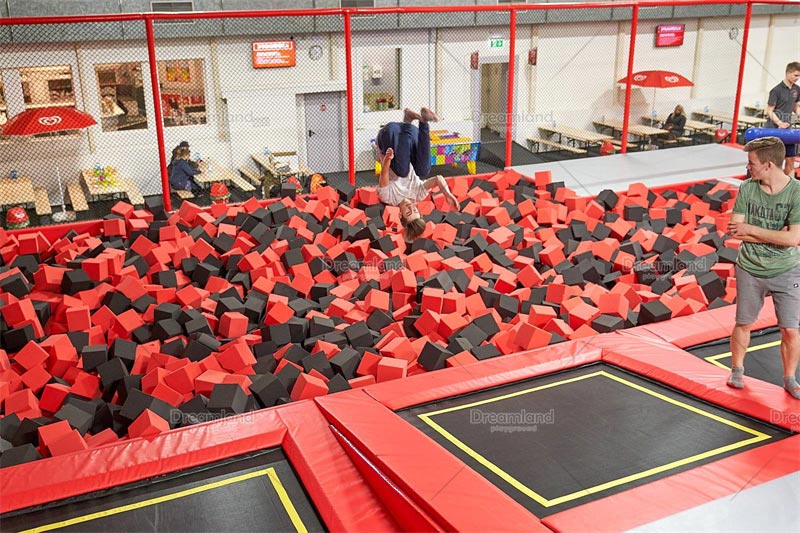 Basketball Slum
Just show off your favorite dunk movie to inner Jordan. You jump high in the air, control the ball above the rim, and it is known as a high slam dunk. Now, it is the art of many high schools to boost up the students' muscles. Even if you're not a pro footer you can still sail over the rim and test out your back flip, windmill, behind the head and double-clutch slamma jamma. Don't miss out on the fun!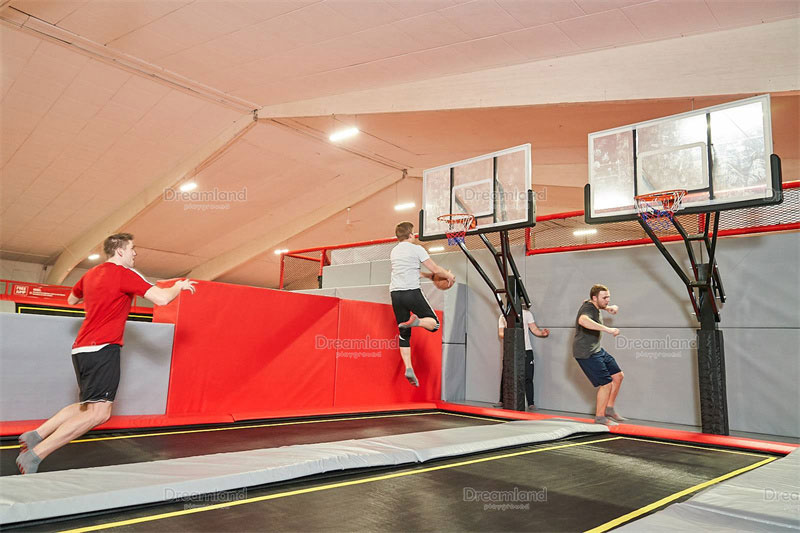 Freestyle Jumping
Another hub of entertainment is freestyle jumping. Just look down at the gravity and feel yourself in the sky. By doing these activities you think you are an acrobat. Like a monkey who jumps from Wall to the wall with great confidence.
Feel yourself a wild dude by climbing a wall-to-wall trampoline court. A place that brings your inner stunts out. A place that makes you a mini acrobat. Do you not want to feel like a stunt guy?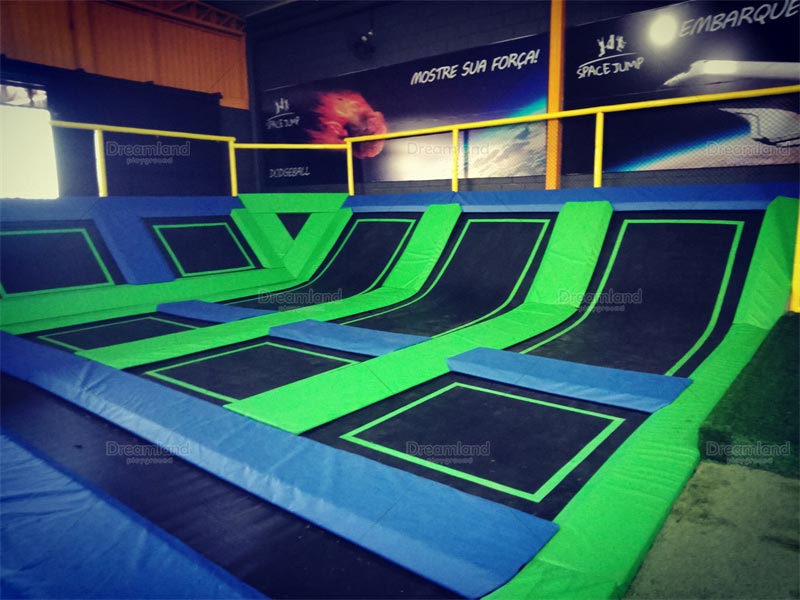 Popular Climbing Wall
Whether you launch climbing walls or not, children will make their own way due to their nature. Because they think of themselves as playground climbers and mountaineers. Perfect playground with perfect playground safety.
Through climbing walls just reach out to the new levels, to build up muscles, hone your kids' skills and make them height master with cliff side fun. Indeed rock climbing walls work!
Varied fun walls include…
FIT-IN wall
Colorful soft climbing wall
Rubik climbing wall
Fiberglass climbing wall
They provide a hub of fun to your kids and elders too as well.
Traverse Walls
Traverse wall has a variety of color options and styles. Color-coded handholds take the strong grip of kids and handholds are small to medium to larger sizes and each size gives a daunting challenge. Small sizes are difficult to grab. But they are good for small kids as they have small hands.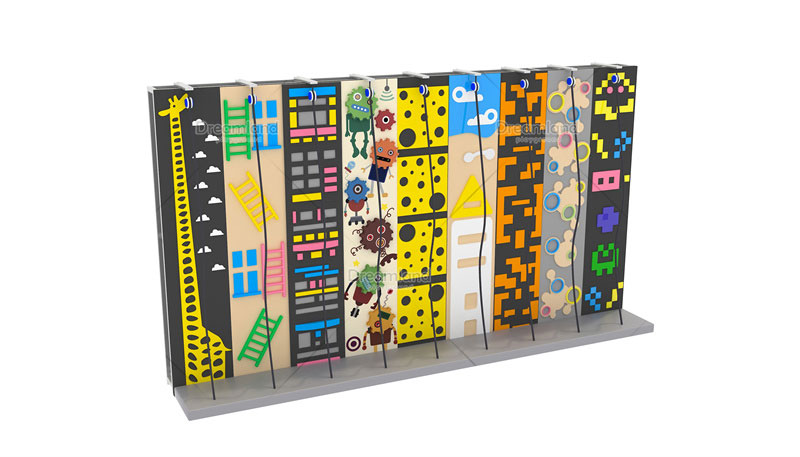 Standard Walls
The standard wall gives a granite look and feel. It comes with handhold and placement options. Its variety of handholds gives an option to Climber to choose their desired challenge. Younger can conquer the wall by their agility. Indeed, it creates a sense of competition! Material of all walls can be customized according to your instructions.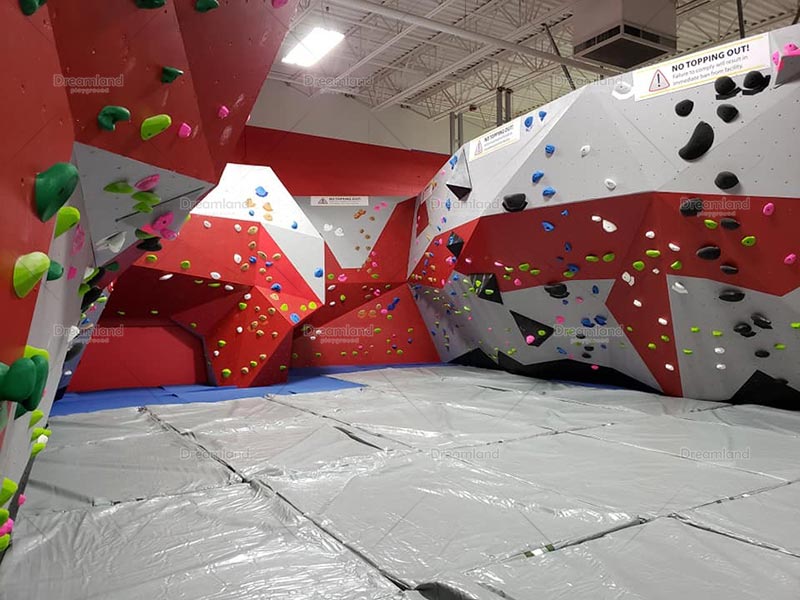 Fun Climbing Wall
A Rope climbing wall is a vertical climbing wall. It needs a safety rope and harness to accomplish the task. This type of climbing is best for adolescents and adults as well. Great security is required for adolescents. But this climbing creates huge confidence for your kids in the upcoming future.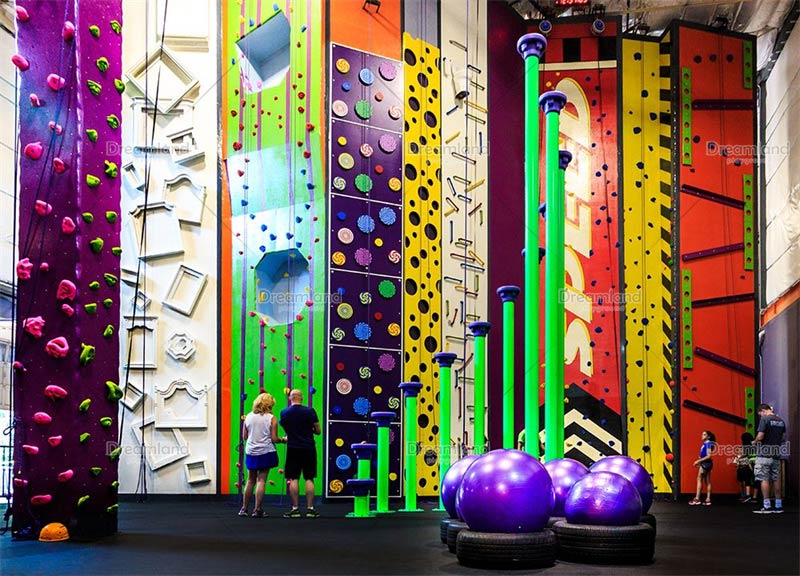 The Most Popular Ninja Warrior Course Equipment
Ninja warrior course is a game for kids as well as teenagers. It is different from traditional children's play equipment. It encourages physical exercise and incite more fun due to its safe and reliable perfection.
We have watched ninja warriors from our living room but now want to try it ourselves. Ninja warrior obstacle course lets you win against your friends and test your strength and balance.
It got popularity after the UK led Ninja warrior TV show and compel the playground manufacturer to launch this game for kids in reality. Now it is not beyond the imagination!
It offers you a chance to test physical strength, cardio endurance, and abilities by crossing the obstacles patiently. Why not test your kid's agility, competition skills, strength, and speed? There are many different levels of ninja courses that you have to complete one by one. Hurra!
Different Levels Of Ninja Course
Elevated ninja course--
ninja course with airbag
Ninja course with foam pit
Ninja course with swimming pool
Multi-level ninja course
Outdoor ninja course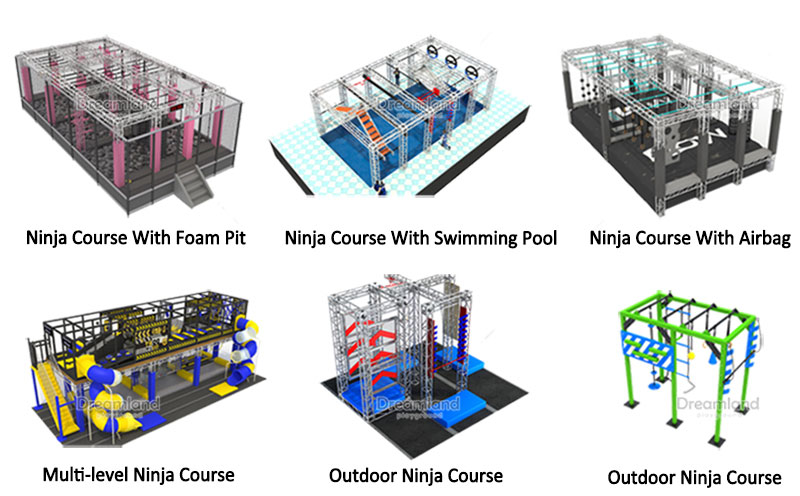 Sky Ladder
Here is another challenge awaiting your feet, sky ladder. It brings you to the top, where you can plant your flag by climbing this fidgeting. During climbing you fall, ouch! But padding below your feet will not injure you at any cost, just get up, try again, and again, finally, you will becoame a conqueror. It best challenge for teenagers!
Zip Line
Zip Line is a daunting task only for dare kids. Not every other child can take the risk. Now you do not need to suppress your wishes to take the ride of Zip line.
In indoor playgrounds, you now Oftentimes observe the presence of zip lines that bring the children from one place to another within the four walls of the playground. One of the most interesting adventure plays.
Indeed it is the best playground equipment or you can install it in your school playground as well. It works better not only in indoor playgrounds but also in outdoor play.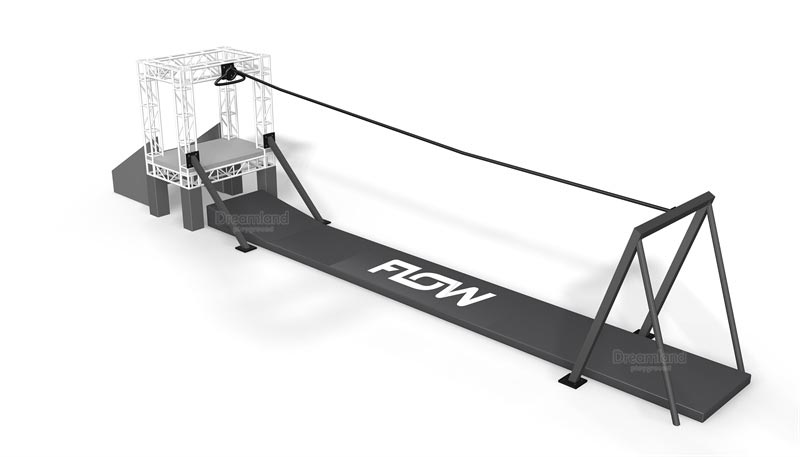 Sky Rider
After the hectic routine of life and work, we want peace of mind, novelty, and relaxation. And all this can be completed with entertainment. And here is the sky rider flying in the sky.
By having a marvelous attraction, sky rider is suitable for outdoors as well as indoors. It is the combination of a roller coaster and zip line that gives you an adrenaline rush!
It swings you through the bends and takes the gravity away from you and gives you the feeling of flying at high speed. Simple yet breathtaking-thrill! Give your visitors an adrenaline ride.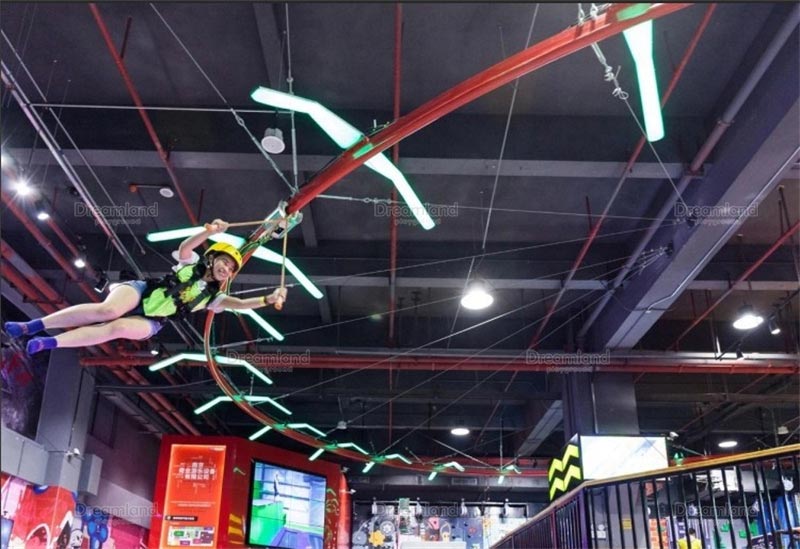 Popular Inclusive Playground Equipment
Inclusive Playgrounds are designed for disabled children and ensure blind users visit where they can feel complete or happy. Because during playground design if you don't consider their disabilities along with adequate technological solutions, it will increase their complexity toward the future. You have to consider…
Wheelchairs
Lack of body control
Sensory Disorders
Color Blindness
Autism
Impaired
We ensure blind users with as few limitations, where these special kids busy with different swing sets. visiting Wheelchair Ramp to encourage disabled kids and bring them to high levels of the park. Molded Swing Set with Extra Hold Harness enables kids to control their body during swinging from all damages and injuries. You should emphasize essential elements like cognitive disability profile assists, best fitting tools, to boost motor skills and kids active.
Wheelchair Accessible Merry-go-round is the best choice for wheelchair kids to manage themselves in spinning playground equipment.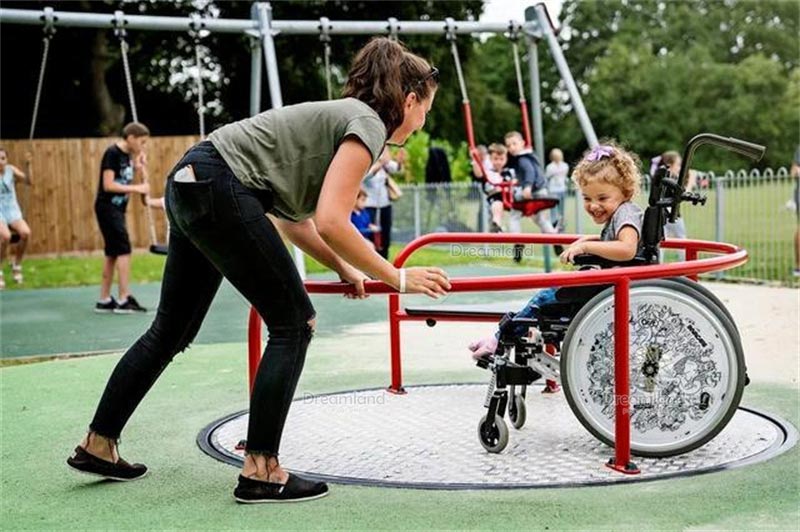 Final Verdict
Indeed, the playground offers an opportunity to children of all ages to help each other and learn from each other. Kids often learn from older children and older from younger and boost their confidence during running, climbing, obstacle course, etc.
The dreamland illustrates the importance of possessing a variety of playground equipment that encourages the play behavior of your kids. Have a look at our age-appropriate and challenging equipment, and browse our selection to choose the best play equipment for your dear kids.
Our indoor playground equipment targets all ages thus there's no age limit to be part of an indoor playground. If your kids fall in multiple age brackets. Then you can buy a custom playground that is created for all ages. Viola!
Being the largest playground equipment manufacturer, we are providing a wide variety of exciting and thrilling indoor and outdoor playgrounds equipment that entertains kids of all ages including disabled kids, and encourages the children to use their imagination in creative and new ways.
Irrespective of the project size, our professional team will walk you through in every way to build up a bright and ideal playground.