How Much Money Does It Take to Build a Trampoline Park?
Publish Time: Author: Dreamland Visit: 304
A trampoline park offers fun activities and workouts (according to a NASA report, 10 minutes jumping on a trampoline is better cardiovascular exercise than 30 minutes running), but it also has a good financial investment. Being a trampoline park owner, you can harness these benefits too by appealing to adults to get engaged in its workout activities. Indeed, a great way to earn livelihood!
So, How Much Money Does it Take to Build Trampoline Parks? To become a magnet for a trampoline park business, you need to have some money, as money makes money. The startup cost to build an indoor trampoline park can be roundabout 100,000 to $500,000, depending on your plan.
Why is the indoor trampoline park industry growing fast? Here are some facts that make it popular. Because it is an excellent financial investment and trampoline parks are the best ways to earn money. Even after the 2000 summer Olympics, trampoline became a giant leap through the air and an official Olympic sport. In 2011 there were only 35 to 45 indoor trampoline parks in the world, but now it has crossed 700 and has become the biggest segment of out-of-home entertainment.
If you want to open a trampoline park, or indoor trampoline park franchise, or make an existing one brand new, we will help you to achieve your goals.
According to a survey conducted by Roller Software in the summer of 2019, kids from 6 to 10 had the largest portion in jumping, almost 35%, 11 to 15 was the second-largest portion of jumpers, and most interestingly, adults from 20s to 30s also visited trampoline park intensely to become a pro. And people in their 40s visited but less frequently.
Trampolines are also used for international associations & different purposes like fundraising for nonprofits, business events, and corporate team activities are just names of a few; these parks can also become more versatile and innovative, boost their income stream, and increase traffic during off-peak days.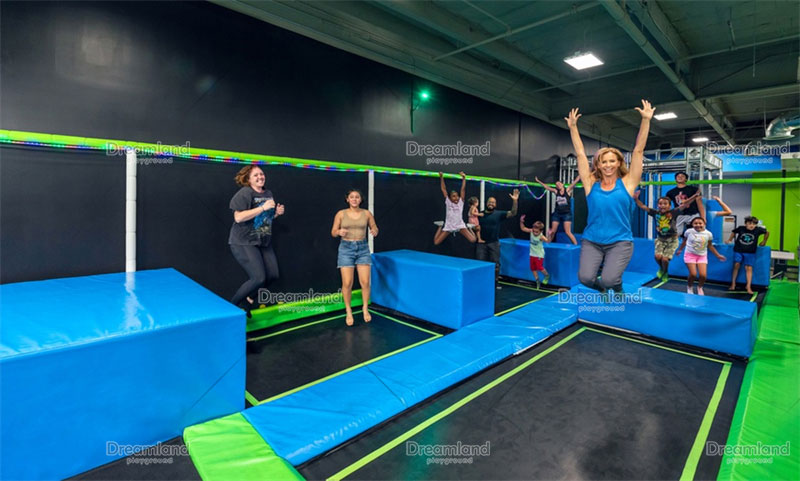 Figure-1-Trampoline Park from Dreamland
Detailed Overview of Trampoline Park Cost
We can only provide you with one example of the overview of the cost. Figures will change with your decisions and how you structure your park as the trampoline industry is growing fast day by day. Let's learn how you can build a trampoline park and how much money you should have in your pocket. Just follow up with us. But first, we will try to understand the figures for our own trampoline park business. Whether you have one trampoline park or trampoline park business, these figures will help to build a successful trampoline park. There is an overview of the figures:
The franchise fee can be $5,000 - 30,000 if you need to get franchise trampoline park.
Lease & deposit includes $10,000 - 50,000.
Building improvements include $10,000 - 100,000.
Signage includes $5,000 - 30,000.
Furniture includes $5,000 - 10,000.
Equipment and supplies include $40,000 - 120,000.
Licenses plus utilities are about $1,000 - 3,000.
Inventory is about $5,000.
Professional fees are almost $1,000 - 5,000.
Insurance deposit of about $7,000.
Pre-opening salaries are about $8,000 - 30,000.
3-month operating costs, including $8,000 - 20,000.
Advertising about $5,000+.
HOW MUCH DOES IT COST TO OPEN A TRAMPOLINE PARK?
We will learn in this section how much a trampoline park costs you and how much revenue it will generate for you. The initial cost to build a trampoline park is quite high, and Oftentimes it ranges between $100,000 to $200,000 (it usually depends on your space) because you need a custom-built trampoline park. But if you want to add more activities like climbing rocks, then the cost might increase up to $300,000 or more.
Plenty of cost of your indoor trampoline park includes trampoline park equipment. So, the cost depends on the equipment; for instance, if your trampoline park has an area of 30,000 square feet, then trampoline park equipment cost might be around $100,000 to 120,000. Although it's not the final cost yet, it can provide you with a rough idea about it.
If you include extra accessories like basketball, hook, flooring, etc., you can add an extra 5,000 to $10,000 to the list. Let's explain equipment costs in detail…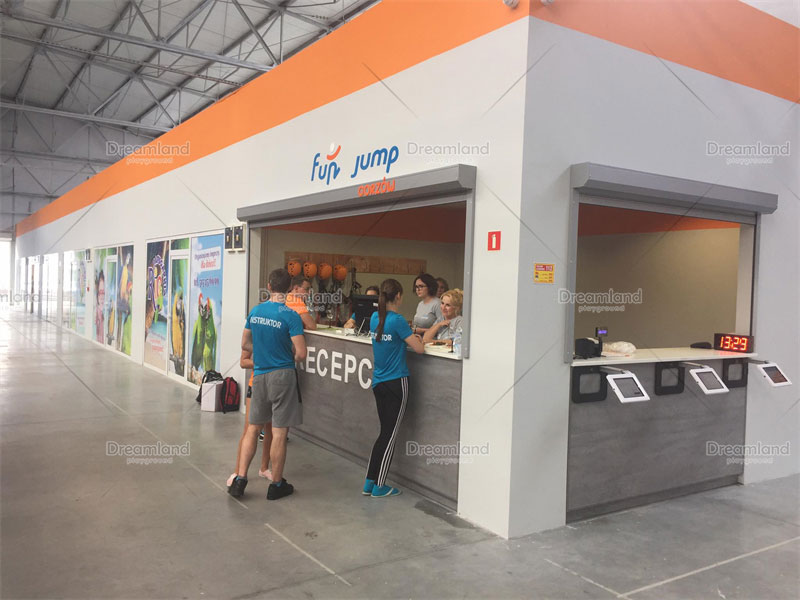 Figure-2-Fun jump in Poland
Location Cost
As a business, Location Cost is another factor you should keep in mind. The more famous places grab your hefty amount, and the less famous make you cost-effective. The best location support square footage requirement, height for ceiling, and operating expenses are a few of many location expenses. For instance, the per square foot cost should be reasonable, between $2-low to-$8-high per square foot. The size of your location should be around 25,000 square feet that can meet the waiting room, seating area, canteen, etc. It can be between $50,000 and 200,000.
Insider tip: when you finalize the location, allocate only 50 to 55% space to the trampoline and the rest for the welcome area, setting, etc.
Cost of Different Themes Equipment
Themes' role cannot be ignored in Trampoline Parks as they play an important role in traffic generation in these parks. Themes like disco nights, date nights, toddler times, ninja courses, and rock climbing all appeal to different audiences of different ages and help to expand business customers. For instance, if you have a 1000 sqm trampoline area to design with any theme, you should have a maximum of $120,000 in your hand, but if you have a vaster area, you can consult the trampoline park supplier expertise. We will always try to adjust your Trampoline theme according to your budget.
Furniture and Equipment Cost
Trampoline equipment furniture, including sofa sets, chairs, desks, benches, and tables, costs you extra money, but with the furniture, you cannot complete the trampoline park and its design. Roughly it will cost you around $5,000 to $10,000.
Similarly, trampoline equipment is the heart of your Trampoline Park as it offers unforgettable ways of enjoyment not only for kids but for adults as well. If your trampoline has more exciting, thrilling, and innovative equipment, then it will stand you out from others if the customers don't find such thrilling experiences anywhere else. If you want to beat your competitors, then you should add an adventure playground. The equipment price for 1000 square meters price range can be between $60,000 and 90,000. It's around $ 60-90/ SQM for trampoline equipment. Moreover, it is totally your decision what types of games you want to add to your business. Like some games are quite expensive, and some are cheaper. Similarly, you can make more profit from expensive games as you have invested more money in them.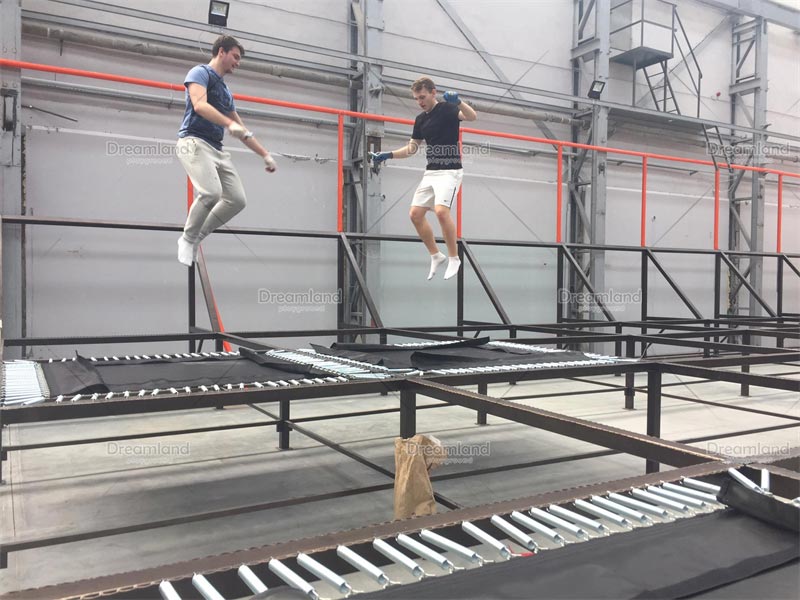 Figure-3-Project Gorzow in Poland
Trampoline flooring
To buy indoor trampoline park floors, you have different options like rubber mat, pvc soft paddings, artificial grass, blankets. Different floorings will have different prices. Normally you can buy by the square meters for around $10 to $30. Foam pits, dodgeball, padding, and wall climbing all have different expenditure levels.
Basketball hoops
Basketball hoops cost you between $20 to $50 each, and as we mentioned earlier, it is not a fixed cost; instead, it is a roundabout cost. There are different types of basketball hoops, and you can choose that fulfill your budget. Some are around 500 dollars in other states, and some that are usually found in China are 150. You can order a custom-built trampoline Court as well.
Toys
Soft footballs, basketball, and all other toys can cost you between $100 to $500. Again, you have to choose your track first to get clear details. Toys, as we know, are of various types, and addition in indoor trampoline parks is a perfect requirement, such as portable table tennis, dartboard, balance beam, indoor snowball, ladder wall set, hopscotch rug, monkey bars, merry-go-rounds, spider climb tower, etc., you have several options regarding toys addition.
Trampolines socks
Trampoline jumping socks, depending on the quantity, can cost you in the range of $0.4 to $0.6 per pair. They offered extra care and caution, cushioning your feet. Owing to the grip on the bottom, you would not sip even during jumping. Moreover, trampoline socks let the dirt out from the feet and prevent blisters as well. Normally trampoline parks sell the socks pair for around 2-3 dollars to customers.
Entertainment accessories
The entertainment industry includes sound systems, and lighting systems are also essential because if there is no lighting, there is no attraction for visitors. People love glossy and fancy-colored decor trampolines along with artificial sound systems. At the same time, you cannot pipe other people's music in your Trampoline Park without their permission. It is pretty costly yet beneficial. It is estimated that you have to pay some $2,000 to 3,000 for your music license. Though it is a rough estimate, you can incorporate it with other additional fees. You have to talk to your lawyer regarding music licensing. Because if the Trampoline Park requires bright colors, it will be beneficial for the business owner to receive more profit.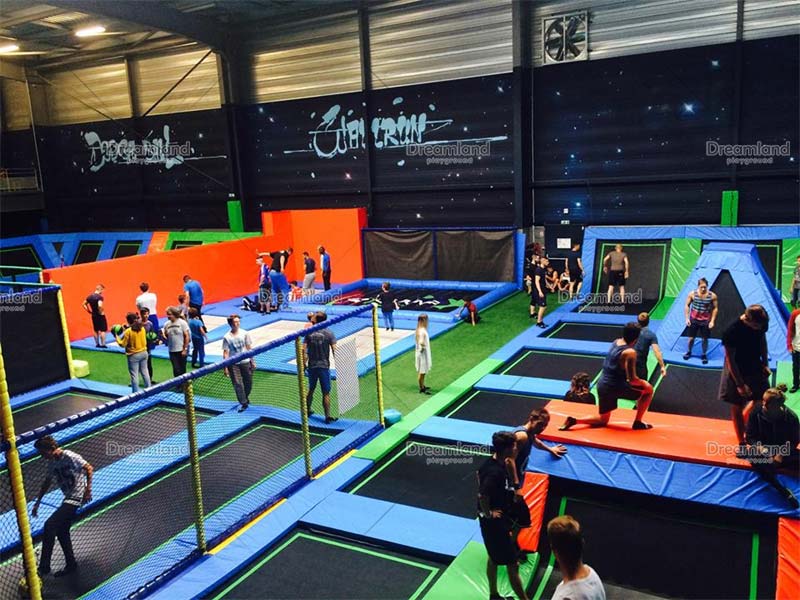 Figure-4-Poject Trampoline Park in France
Hire Employees
In the beginning, according to your Trampoline Parks size & labor costs, you can hire 3 to 5 employees. But you may go with a skeleton crew that can cover all concessions and activities you offer. With the time when your business grows, you can add more people to carry out different activities. Almost 3 to 5 employees are required in popular indoor trampoline parks. Keenly observing the competitor's trampoline and bringing more creative staff will help the owner to represent its trampoline park well.
Appointment of staff also depends on trampoline space, and you can divide it into different sections, such as, normally for 100 sqm area one employer is enough and if the area is about 300 sqm then two and the hiring process go on. Also, to teach the people how to play on the trampoline or make a trampoline, some wise and expert people are necessary who teach them how to play safely.
Refreshments
Any trampoline park cannot be completed without refreshments and energy drinks. Snacks and drinks can cost you between $1,000 to $2,000 in the initial stage. It is the price of just common drinks like sports drinks, bottled water, candy, fruit, soft drinks, pizza, soft pretzels, etc. If you have more items, you can list an extra cost for them.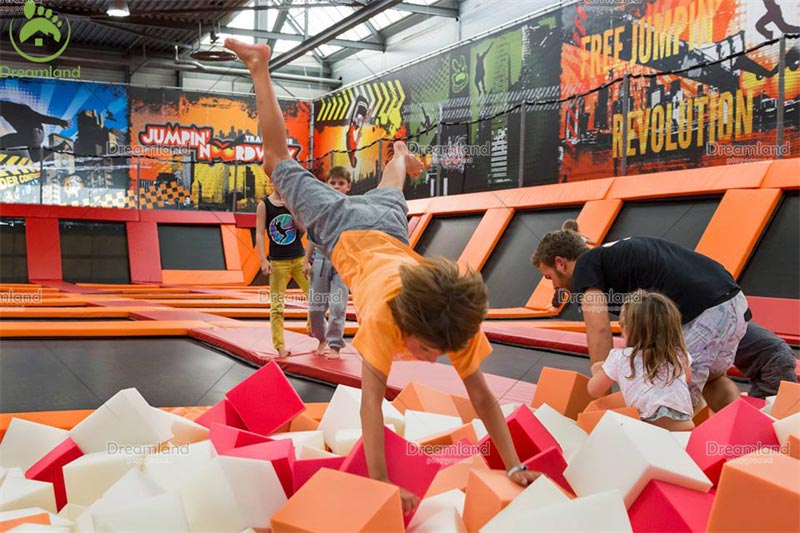 Figure-5-kids trampoline jumping
Register your Indoor Trampoline Park
If you do not register or permit your Trampoline Park and business bank account, you have to pay hefty fines and even have to face shut down. Certain state certificates are required to achieve. In addition, you may require local regulatory requirements for your Trampoline Park. Besides, you have to register your Trampoline business for state taxes according to your business niche. Bing trampoline park operators and to cover up initial costs of trampoline or initial franchise fee business credit card should be in your pocket.
Marketing Costs
As trampoline parks are designed for all ages, they can attract all ages. Still, for this purpose, you have to market your business to maximize revenues, as most trampoline parks have business website builder tools that are not found in other trampoline parks. Because if you have a business website there, purchasing online tickets will be easy, and further, you can sell personal assets. It is perfect for dealing with different demographics individually and arranging events around the day to attract each group. Having social media accounts, you can share your social media channels like the Facebook page, Instagram page, LinkedIn business profile, YouTube channels, etc. Trampoline marketing cost falls within the range of $5,000+. Through these steps, you can raise money even with small business administration.
Get Insurance for You Indoor Trampoline Park
In order to operate safely besides license and permits, you have to go through insurance policies because insurance companies protect your business's financial wellbeing against all covered losses. So there are different business insurance policies for the different business models, along with general liability insurance. Moreover, there is workers' compensation insurance as well for your workers well being. Get an Insurance deposit of around $1,000,000. And also, get in written form by an authentic company as your personal assets are your total wealth.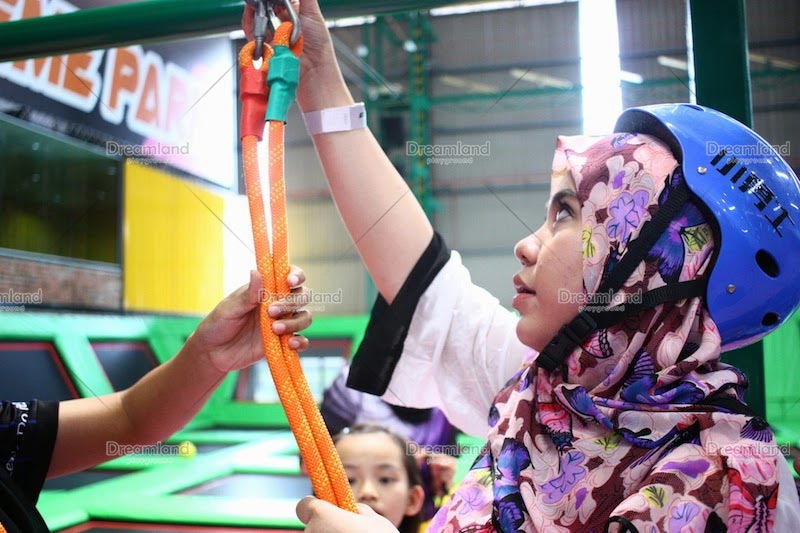 Figure-6-Protective Rope Indoor Playground Equipment
Professional Maintainers Cost
Most often, our target public is between 6 years to 15 years because this group has the most fun doing activities in their prime. So, mostly swings are not easy to install and demand great care to install and adjust them. So, you have to hire or take professional services to carry out the job. And they need heft fees to launch the swings. Do you know who the real asset of the trampoline park is?
A family with discretionary income along with active children because trampolines offer some fun activities like jumping, foam pits, etc., for children to burn some energy and discretionary income afford to bring kids to Trampolines. But trampolining is not as easy as you think; a professional takes a handsome amount to install it, such the range starting from $400 to $700, but this setup makes you a trampoliner and gives some tricks and tips to win the ground and avoid being injured or hurt.
Working capital of a few months
Another important factor to consider while constructing a trampoline park as all utility bills, water bills, payrolls, insurance, etc., for the first few months, will be paid by you. Therefore you should keep these expenditures in mind before taking any step. Therefore you should make a plan for these ongoing expenses throughout the year because these ongoing expenditures are your start-up cost which you have to bear in all situations. No doubt the cost is high, but so is the profit margin. Licenses and utilities will cost $1,000 to 3,000. Almost you have to arrange three-month operating fees of $8,000 to 20,000.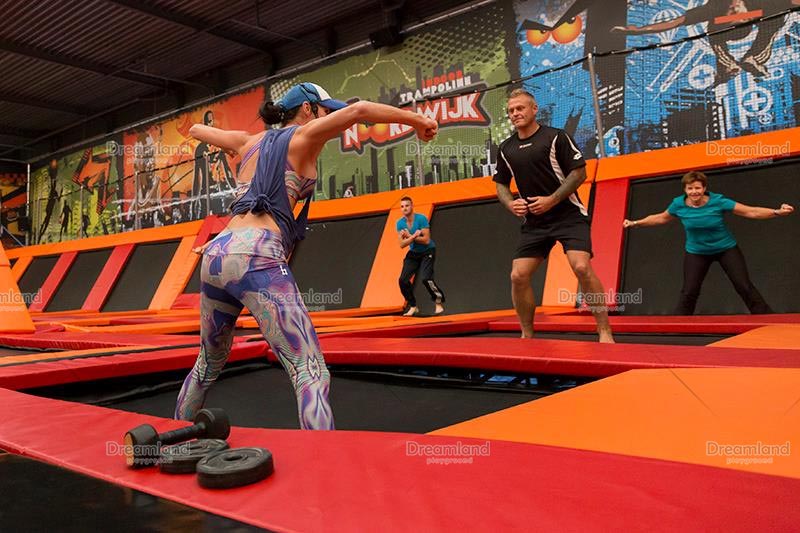 Figure-7- Trampoline Park Competition
Renovation/construction costs
Renovation and construction costs are extra costs that you have to invest in because if you want to enhance your existing trampoline park, you have to pay your pennies to get the desired result. So this cost on renovation. Almost you need to have some $5000 in all-time for all sudden damages as all Recreation centers or special events require an extra amount in time of emergency.
Being a trampoline park owner, you can save manufacturing costs by contacting many contractors to get precise quotes from various companies to compare their rates before making a perfect choice. Luckily, if you possess a building for a trampoline, it will be a perfect point to a good start.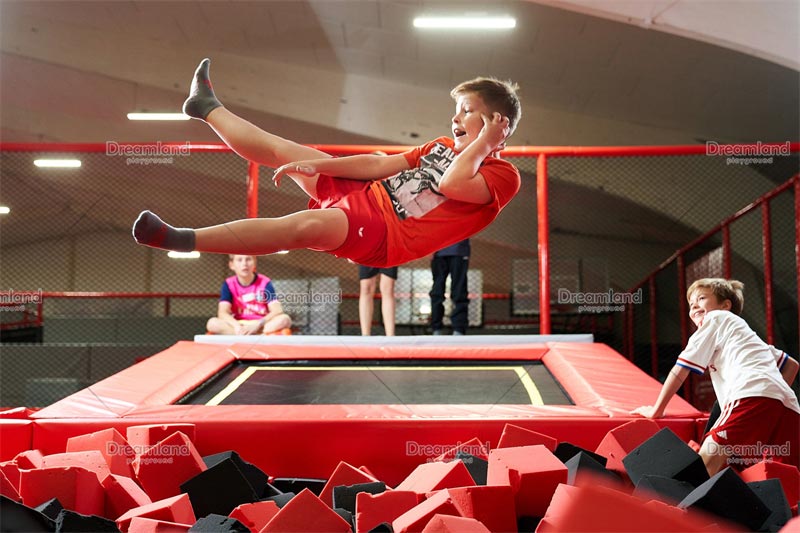 Figure-8-JUMPING POINT in Germany
How much can you charge customers?
Typically, an indoor trampoline park charges $10 per hour, specifically for jumping time. Rates vary from area to area; if your trampoline park is located in an urban area, you can charge a high amount, and if it is located in a low area, you have to charge low charges. If the customer uses your socks, you can charge an extra amount and further for refreshments as well.
There are a bunch of tips you have to follow to increase your profit in the indoor trampoline business. Improve your Trampoline ticket system as most customers don't want to stand in queues for a long time to get a ticket; rather, people prefer online tickets. If you offer VIP passes, you can make more profit. Another tip is to offer competitive deals in groups by giving them heavy discounts. Also, offer enticing deals for birthday parties, meetings, corporate events, and party packages to lure more customers to the Trampoline Park franchise.
Moreover, upgrade food options and give options to the customers to add different food packages to their tickets at a discounted price. In this way, you can advertise your food deal for kids as well as for adults outside the pizza box. Similarly, indoor trampoline park franchises also increase your profit.
You can start dodgeball class in the evening and fitness class in the morning for adults. And for kids, you can start an after-school jumping club. Now, you can charge all your classes and ideas where your target market & audience spends more time, like recreational centers and libraries.
How Much Profit Can You Extract from an Indoor Trampoline Park?
The potential Profit margin of your Trampoline Park Business is all about your location-based. One indoor trampoline park owner shares a profit margin of 25%. And the figure crossed after paying the 25% ongoing maintenance, 25% labor cost, and 6% insurance premiums.
Most interestingly, just in California, an owner of a trampoline park business put $500,000, almost 39% profit, in his pocket, and his park experienced 2,000,000 in gross sales. Although the cost of establishing a trampoline is high, its benefits are too fruitful, and all the margin mentioned above is gained in one year.
You can make more profit from high and low prices because if your park is located in a high prime area, you can charge more pennies for one hour, or if your park is located in an average area, you have to charge low charges.
Factors like trampoline location, competitors' play equipment, event offers theme selection, appealing marketing, and profit margin all help to make the indoor trampoline park business successful. Careful planning along with market research helps to make the park successful, besides parks franchises also making millions of profits.
As trampoline parks appeal to every age, you can increase profits drastically by giving concessions to entire families, groups, or other entertainments or by opening trampoline park franchises. Its physical fitness activities appeal to many gym rates or bodybuilders. In the end, according to our sincere customers ' feedback, you have one 6-8 months to see the profit margin. Start a trampoline park today with us!
How can you make your business more profitable?
If you really wish to boost up your Trampoline Park business profitability, you have to introduce plenty of concessions plus rewards along with other forms of entertainment in the indoor trampoline park franchise. Launching the trampoline-focused family system where you can announce that if the whole family visits our Trampoline, they will be given fees concession or fees remitted for one or two persons. It will surely double your guest time in indoor trampoline parks and can increase revenue by $100,000 annually. But all, in the end, it is your creative mind. How can you design a concession system to attract more and more people?
It depends on your insights on how you will charge; you can charge hourly and can give party packages and discounts on special days to get more earnings. If you have a sky zone, foam pit, climbing walls, air trampoline park along with marketing assistance, gross revenue will be higher beyond your imagination. But trampoline park starting fees demand a perfect business plan.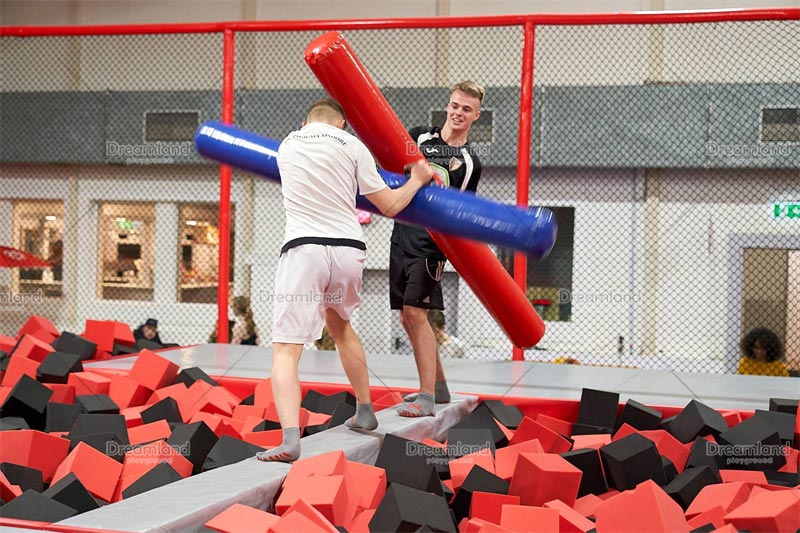 Figure-9- fighting stick trampoline equipment
Design your Trampoline Park Perfect with Dreamland playground
Suppose you want to thrive in your business, then as an entrepreneur, you have to set yourself apart from competitors. Therefore, if you really wish to kick out an indoor trampoline park, you have to determine the types of elements your park must have over other parks and how you can make your customers unique experiences that force them to come again and again. How can you differentiate your Trampoline from other trampolines?
One way to make customers excited to come back and boost the fun level is to provide adventure indoor play equipment. At dreamland, we have everything you want to build an unforgettable and outstanding indoor trampoline park.
We offer non-traditional play structures and innovative equipment to make your little bitty kiddos jump for joy and help to grow your business. For instance, try to make your Trampoline a space where children can bounce around the trampoline along with swinging on Wobble Hopper & maneuver and balance by the Wiggle Waggle maze. We have a wide array of play systems, large as well as small, to keep parents and kids active and happy for hours.
Unluckily if you don't find your desired play structures, then we offer customization options too to deal with any vision and theme. All our playground equipment is designed with high quality along with installed by professionals who care. If you want to take your business one step ahead or to new heights with fun play equipment, dreamland makes it possible and helps to increase your revenues by attracting more families. Ready to design a trampoline park with us? Starting a trampoline park with us gives you so many advantages. Request us a quote plus a free design consultation today!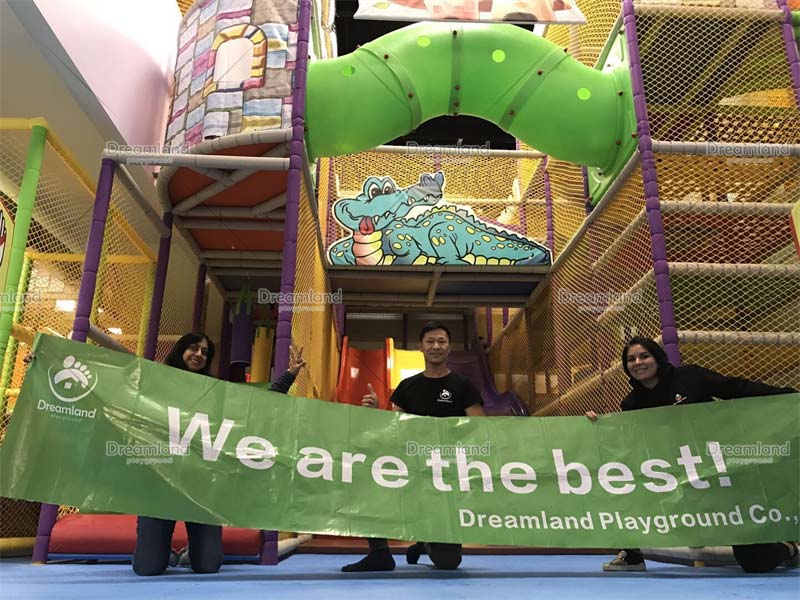 Figure-10-AIM HIGH PARK in Canada