Are Indoor Play Areas Profitable?
Publish Time: Author: Dreamland Visit: 67
Indoor play areas are becoming an in-demand recreational place for kids where they can play, socialize with other children, and enjoy childhood in a secured and controlled environment. It is a highly profitable business venture when done right with meticulously planned strategies, market research, and critical decision-making. Now, the question is, how do you make a profitable indoor playground business? Read on to find out!
What are indoor play areas?
Indoor play areas are colorful, and fun-filled playgrounds for toddlers and older kids where they can be physically active but in a supervised and safe environment. It is a significantly smaller version of an amusement park or kids' entertainment center. It offers various playground equipment, courses, soft play areas, children's rides, and parks. Other indoor playgrounds also host celebrations such as birthday parties and field trips to name a few.
The industry of indoor playgrounds gained popularity due to the growing concern on childhood obesity and children's decreasing interest in physical activities as influenced by the rapidly advancing mobile phone technology. Children tend to stay indoors and spend time playing video games, surfing the internet, watching TV, etc. Parents were looking for an entertainment-filled alternative that will capture their kids' interest in safe physical activities. They wanted their kids to enjoy childhood and be kids again enjoying normal physical recreations where they can jump, leap, run, climb, and fall freely. Indoor playground is a perfect fit for this growing demand and from the mid-1990s, it became a viable, legitimate business and is continuously growing.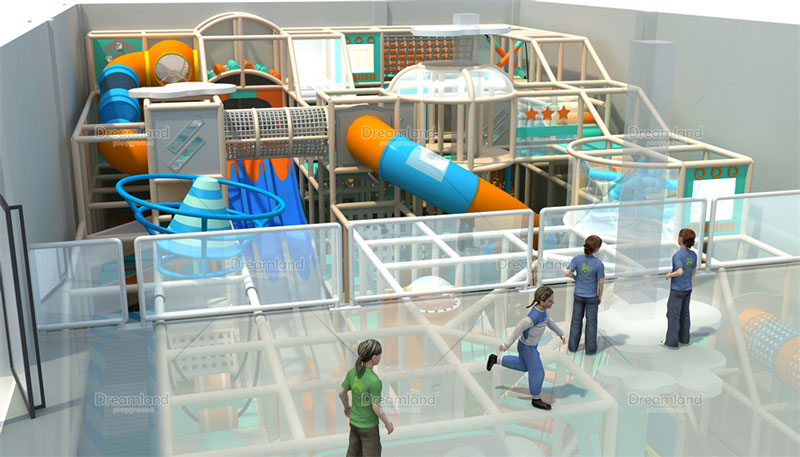 Should you start an indoor playground business?
There are no definite standards on who should venture into the indoor playground business because the industry is promising to start with. Anyone who has the resources, interest, and passion in making it work can definitely make a profit out of setting up an indoor playground.
Previous experience in managing a business is an advantage giving you an edge over your competitors since you already know the basics of setting up a successful business and the struggles that may come your way. However, it is not a requirement because, with detailed market research, thorough planning, and smart decision-making, you can learn the craft.
However, existing business owners may set up an indoor playground to boost their attraction, capture parents' and kids' interest, and make them feel welcomed while garnering more sales and business growth. Adding a colorful indoor playground to your establishment will enable parents to shop, dine, relax, walk around, socialize, and have a little "me time" while their younger children enjoy the fun games and attractions in the playground. Whether you own a restaurant, store, shopping center, clinic, or museum, a safe and kid-friendly play space will help your business grow. Dreamland playground can help you figure out the perfect soft play equipment suitable to your space and budget.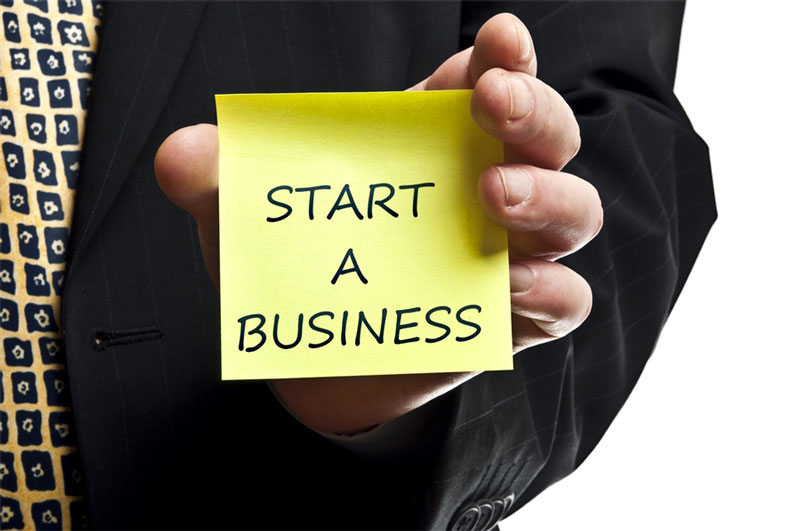 What is the Estimated Profit of Indoor Playground Business?
The next thing you want to check is proof establishing the claim that an indoor playground is a highly profitable business. You would want to be sure that your total investment will not go to waste. So we're laying all the details here to help you decide.
Market research shows that in 2017, the global market size value of indoor entertainment areas was $18,907 million. Researchers see a promising increase in its market value of up to $40,814 million in 2025. This, in itself, shows that the demand for indoor play areas will increase rapidly in the coming years.
In terms of revenue, the indoor playground industry earned a total revenue of $336 million in 2019. Furthermore, more than 30% of families earn $75,000 to $150,000 annually. The numbers show that there is a huge market of families with disposable income, therefore more families will spend more money on quality entertainment. And census data shows that in 2015, 28% of the total money spent by families on entertainment went to "entertaining experiences" and it is expected to increase in the coming years.
However, there is no standard formula in predicting the profit margin and return on total investment in an indoor playground business because it varies depending on the cost, business model, location, and services offered. Some offer a stand-alone indoor play area only without other additional products and services. Other establishments use indoor entertainment centers as an additional attraction to their products and services such as stores and restaurants. The latter is expected to gain an increase in traffic and earnings.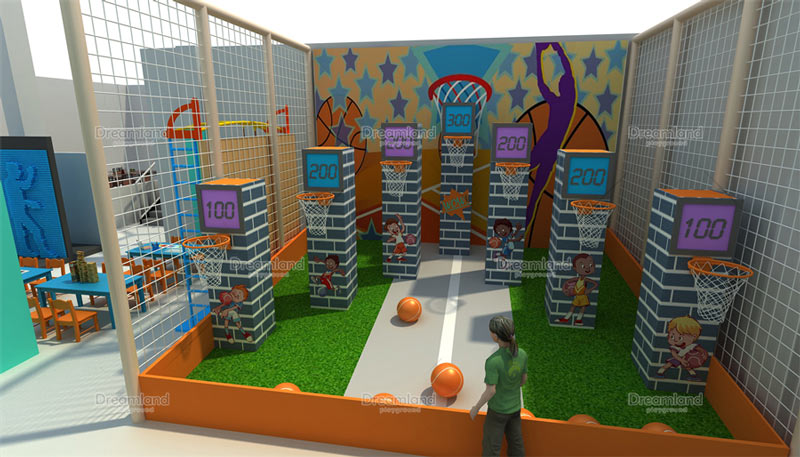 Why are Indoor Playgrounds a Good Business?
Perfect playground alternative during wet seasons and long winters
Winter seasons and frequent rain showers hinder children to enjoy outdoor play. That's where the indoor playground business model comes in. It allows children and young adults to play, have fun, engage with other kids, and be physically active children even during unfavorable weather conditions. Plus, it eliminates the risks of accidents since indoor play areas are highly supervised and secured environments intended to protect kids at all times.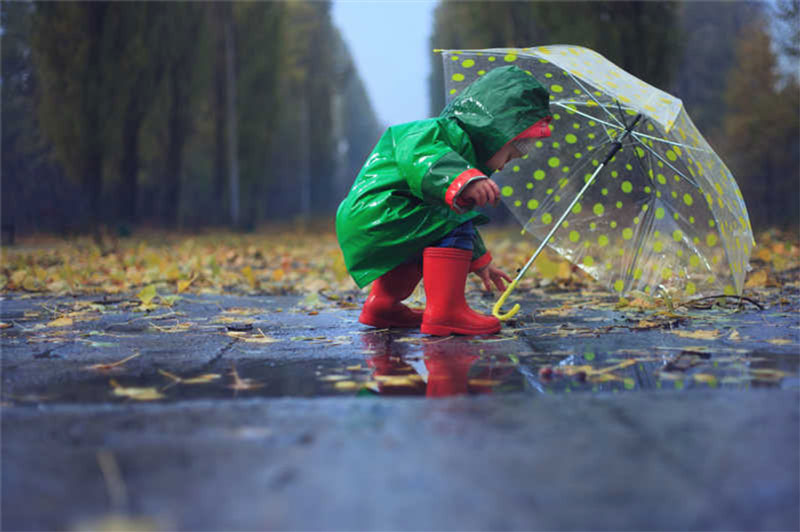 Helps resolve the rapidly growing concern over obesity among children
Childhood obesity has been a serious health problem in the world. In 2016, the World Health Organization (WHO) have recorded over 340 million children within the 5-19 years old age bracket were obese. And in 2020, 39 million children under 5 years old were obese.
Obesity among children is one of the major concerns of parents and they need help in addressing this issue. Good thing that indoor play areas are here to help parents encourage their kids to shed some calories in a fun, safe, and healthy way. By engaging in physical activities, kids learn, socialize, and are able to exercise without being forced. It is also a great de-stressor for kids giving them a channel where they can relieve their stress, laugh, and enjoy.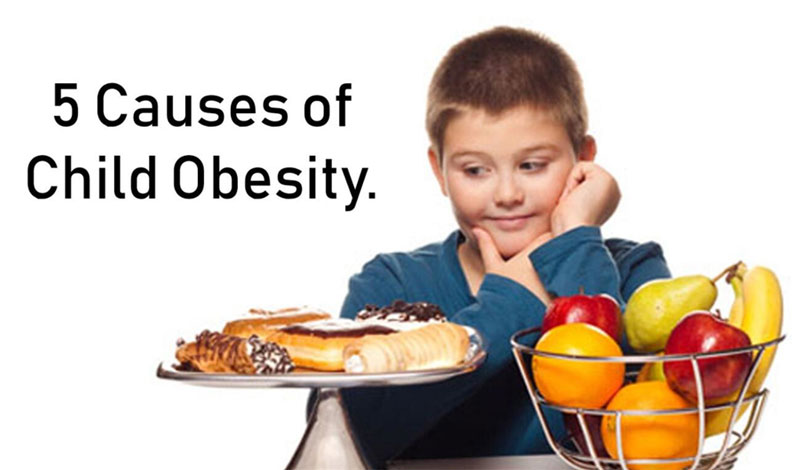 An effective way to minimize screen time
Growing up in the era of digitalization, kids are exposed to different gadgets and technology. Though these brings lots of benefits such as access to learning materials, entertainment, and communication, kids tend to spend most of their time playing video and mobile games, surfing the internet, and watching T.V. The lack of balance between screen time and physical activities may result to the disturbance in sleeping patterns, distracted focus and attention, and unhealthy lifestyle.
To help kids minimize screen time, parents can bring their kids to indoor playgrounds to play with other kids, explore, and create positive memories. This also allows parents to relax and do other things while their kids are having fun.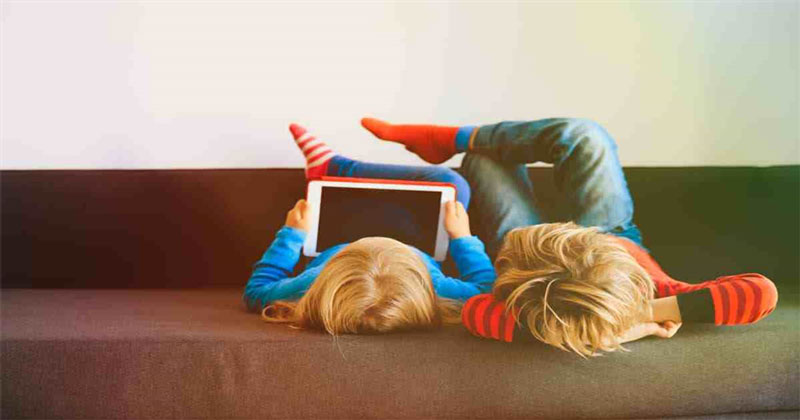 A great way to gain customer traffic
Indoor playgrounds can help your business boost customer traffic and revenue by attracting your targeted customers with colorful playground equipment and visually captivating designs. Once you've captured their interest, make sure to give them a lasting positive experience to make them return and gain patronage.
Indoor playgrounds emit a welcoming vibe to families. Most often, parents feel reluctant to bring their kids to public places for the fear that they might misbehave. Encourage them to bring their children by providing a safe and fun space for their children through your indoor playground. Normalize letting your customers' kids have fun as they shop, dine, and relax in your business establishment.
Widens your market
Indoor playground business widens your target and eventually includes children as your customers. If the existing market of your services is adults, adding a play area in your business establishment will help you encourage the adults to bring their children and relatives with them generate more revenue. It will also entice families to patronize your products and services since it offers a one-stop-shop that is suitable for all ages.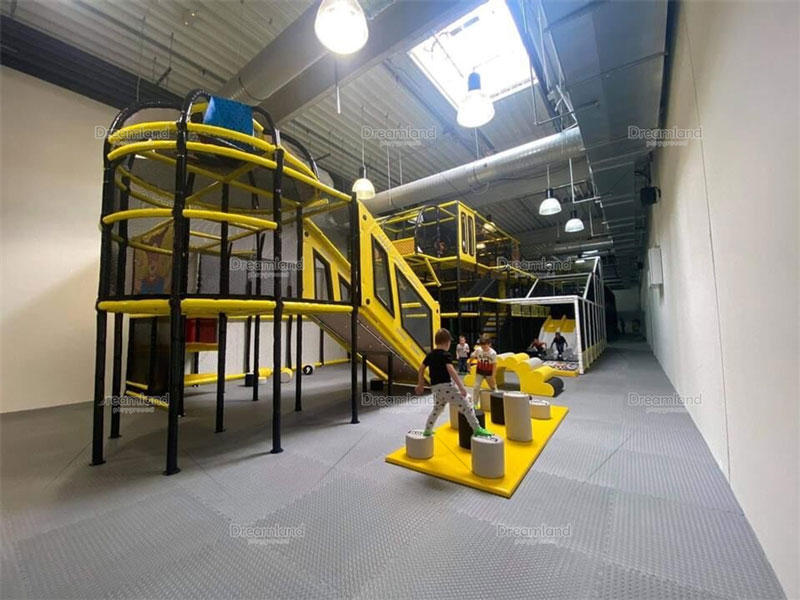 Allows you to incorporate your brand with your play area design
Indoor playgrounds allow you to advertise your business by creating themes and designs that show your brand. You can choose to incorporate your company logo on the soft play surfaces or pick your company colors when designing your entertainment center. Exposing your customers to your brand will help them remember your business. This way, you're already imprinting your brand without being too pushy.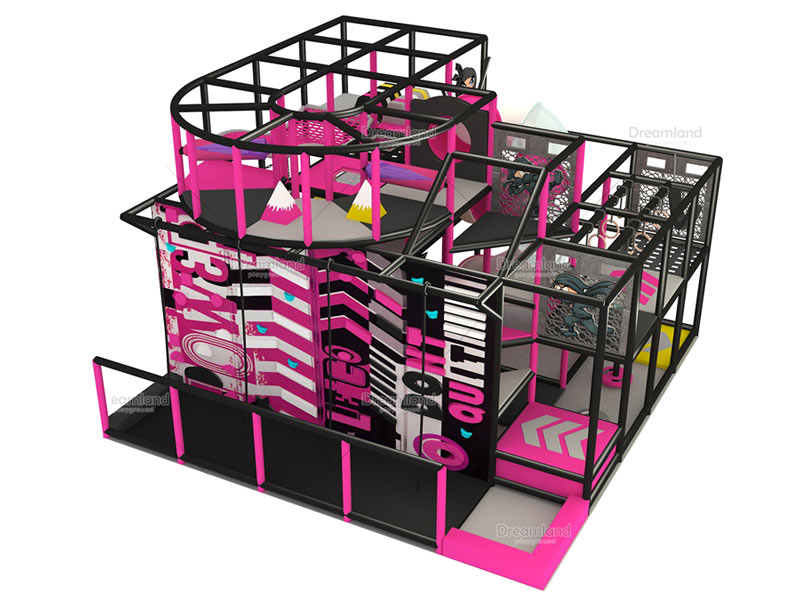 12 Ways to Make a Profitable Indoor Play Area Business
1.Determine your Budget
Your budget will determine the size of the playground, equipment type, number of equipment to acquire, and other services you're going to offer. How much money do you need to put up in this business? Your financial resource is one of the major determiners that will help you decide what type of indoor play area you want to build.
The money you will need to start a play area business depends on the size of the play area and the type of equipment you want to set up. A large play area that offers various entertainment equipment will cost more. You also need to consider whether you're putting up an indoor playground as a standalone business or as an additional attraction to your existing business.
You also need to consider your target market to help you decide the size of the indoor playground you want to set up and the number of playable equipment you want to add to your indoor playground. However, if you have a smaller space, you might want to start with standalone equipment and expand your business as you go along. This way, you don't have to spend a hefty sum upfront and it will give you time to test your market and study the business flow.
Overhead cost is another important factor in planning your budget. This includes rent, insurance, utilities, staff salaries, marketing, and advertising expenses, and maintenance costs. You also need to remember that you need to sustain your overhead costs on the first few months of operations thus it would be wise to include it when calculating your budget.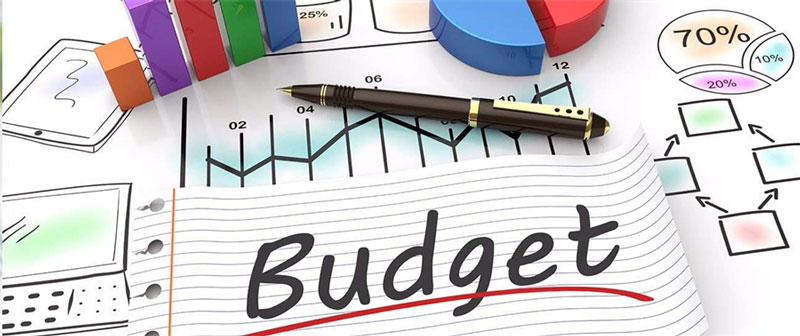 2.Focus on your Specialty
Indoor playground business comes in different forms and types and caters to different age groups. Some offer entertainment access to a certain age group like toddlers to pre-school while others cater to adolescents, pre-teens, and adults. Others opt to cater to customers from various age groups.
Play areas also vary depending on the attractions and activities they offer. Most indoor playground solely offers physical activities such as running, jumping, climbing, tumbling, and going through tunnels and slides. Others provide different entertainment options such as arcades, video games, rides, gaming consoles, and other machine games.
The industry is not limited to soft play equipment only. You can add competitive features suitable to your target market. However, the boundless ideas of what to include and where to focus can be confusing. Instead of accommodating everything, find your specialty, know what market you're best at, and what equipments are likely to garner traffic.
You can choose to set up an indoor play area that specializes in extreme sports activities such as wall climbing, zip-lining, or ninja warrior course. Gymnastics-based activities are also in high demand such as a trampoline park. Focus on a single niche, grow from there, and provide excellent service to your customers.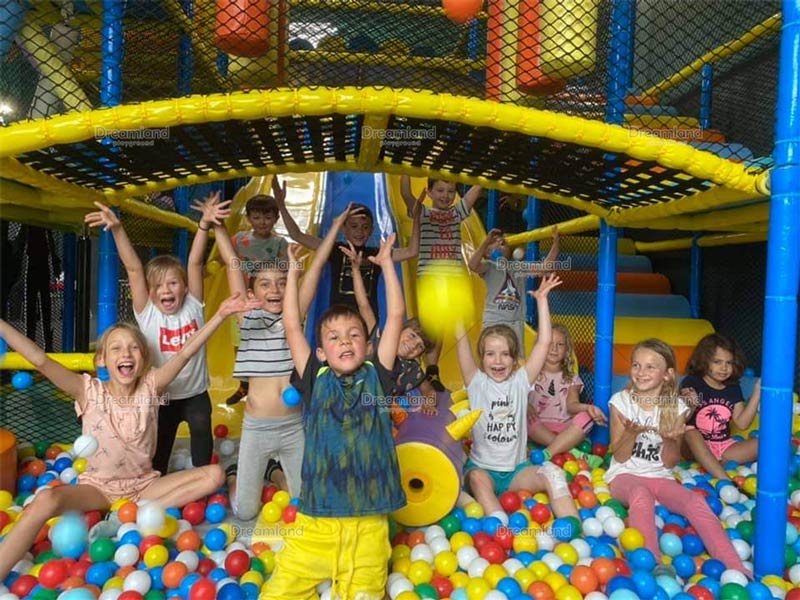 3.Learn from your Competitors
Being new in the business, you need to study the industry and learn the ins and outs of the business. The quickest way to do it is to learn from your competitors who have been in the industry for quite some time. The concept of an indoor play area is not new and numerous businesses are using the same idea. But you can stand out and set yourself apart from your competitors by being innovative and adding a few unique features, products, or services.
Conducting significant research on the current local competition in your area will help you find a way to stand out. You may offer longer operation hours, package deals, cheaper entrance fees, additional entertainment equipment, and various fun and unique activities to name a few.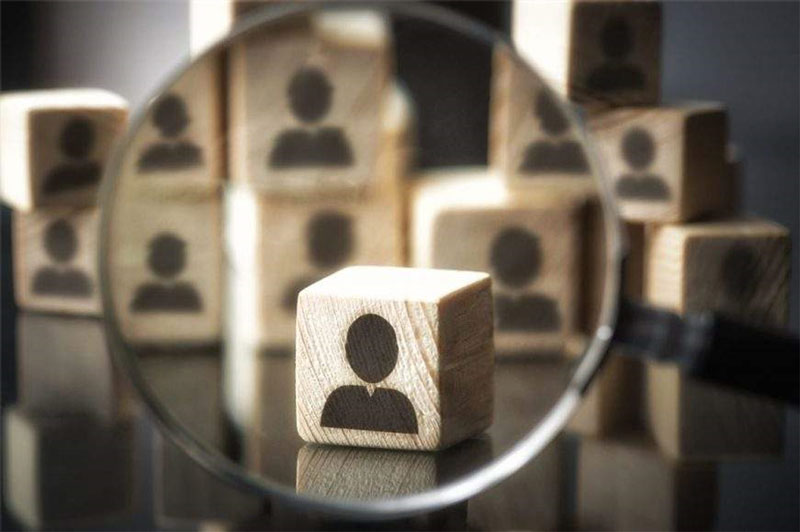 4.Make a Detailed Roadmap Plan
Before starting a new business, you need a workable detailed roadmap plan of what you want to achieve, how you want to achieve it, and what you will do when unexpected situations occur. This will help you plan your course of action even before a problem arises. And it will prepare you on how to manage the business and address many factors that might affect your operation.
Your plan should include the following:
The primary source of revenue
Other potential income-generating sources in the playground
What service do you want to offer?
Are you going to serve food and drinks? How do you plan to do?
Do you plan in hosting children's birthday parties and other gatherings?
By addressing these factors ahead of time, small business owners like you can prepare other sources of revenues in the playground, plan on what services to offer to help customers and entertain children of different ages, estimate overall budget, and decide what supplies, equipment, and staffs' skills needed.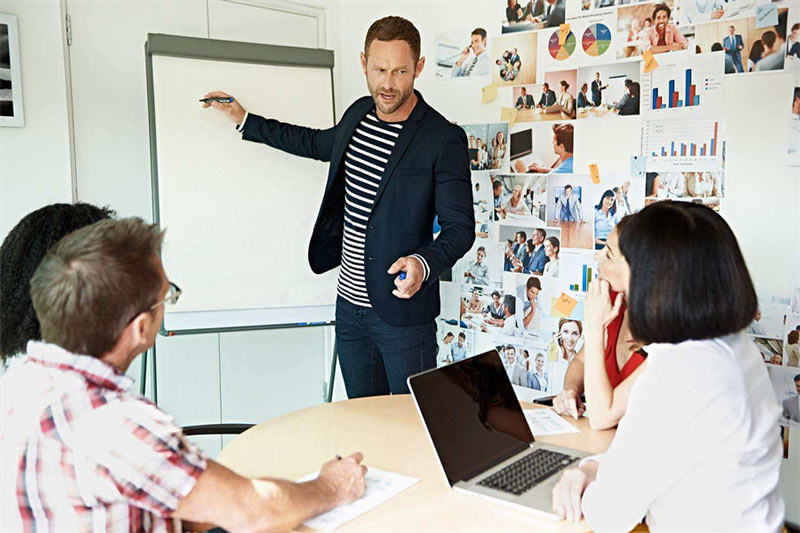 5.Your Business Location Matters
When you're planning to start a business, one of the major factors to consider is the right location. The perfect spot to open up a business also depends on the type of business. In the indoor playground business, you need to study the local area demographics and find a place that is easily accessible to families.
For existing business owners who want to add an indoor play area in their business establishment, location is less likely an issue. At this point, you have already established your brand and have gained customers. A play area is a flexible business and suits most types of industries including retail, childcare, healthcare, restaurants, tourist spots, and parks, etc. The play area will add attraction to your business and help gain foot traffic. The challenge here is to make it effective.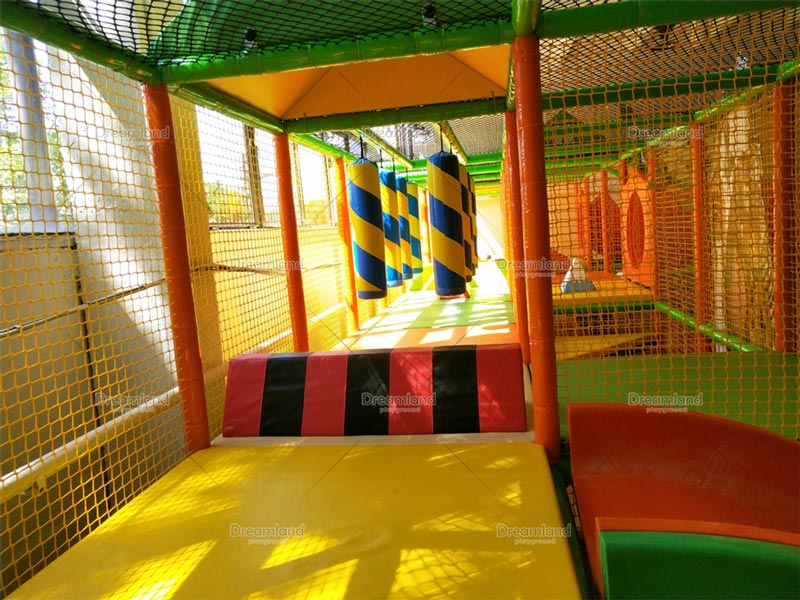 6.Detailed Market Research is your Ally
Conduct detailed market research of the surrounding area to identify whether your target market exists in your desired location. Remember, you want your business to be at the center where your customers are situated. So, in the indoor playground industry, you would want to open your business in an area with a young population rate preferably from toddlers to pre-teens and families with disposable income. It's also a plus if your business is located in an area with frequent rain showers, long winters, and wet seasons.
You can collect these data from your local government office, or use existing data gathered by other businesses alike. You may also conduct interviews, surveys, and online polls. Your market research should be able to collect data regarding the following:
Children's population aged 0-12
Data on what type of kids' entertainment families prefer to spend their money?
Does your location have sufficient space to hold an indoor play area?
Is your business location situated in a residential area? Is it located near tourists spots and other public amenities?
Is your location accessible by public transportation?
Is it stationed in a safe neighborhood?
Is the establishment safe and well guarded?
Is it located near or within commercial establishments, schools, and adult relaxation areas?

7.Find the Right Playground Equipment from the Best Supplier
Next on the list is choosing the right indoor play equipment. Due to the incessant rising demand for indoor playgrounds, the playground equipment manufacturing industry also increased. This means a handful of options to choose from. However, to select the best playground equipment for your indoor playground business, you need to consider the following factors:
Cost of Indoor Play Equipment
The cost of each indoor play equipment varies depending on size and type. Although the cost is a major factor to consider when choosing the perfect play equipment, always choose quality over anything else. Safety should remain your top priority. You can ask for price quotations from trusted manufacturers, compare their price, product features, services, and reputation. Knowing these important data will help you get the best deal, highest quality products, and excellent service that you deserve.
Equipment Warranties
Indoor play equipment is subjected to pressure, excessive weight, and daily wear and tear as a result of kids' physical activities. That is why an equipment warranty is vital when choosing playground equipment. You would want to get the best value from your investment and warranties will come in handy in case of repair or playground equipment replacement.
Additional Services such as Equipment Assembly
Setting up the indoor playground equipment can be tricky and confusing. After all, you're putting up life-size play equipment, toys, crafts, and other accessories. It is important to find a trustworthy and reputable indoor playground manufacturer that will assist you during equipment installation and will accommodate your needs and questions.
We at Dreamland Playground, offer various ways to help our clients by giving recommendations on the perfect equipment suitable for their playground space, budget, target market, and niche. We also provide suggestions in picking the best designs, themes, and colors. And most importantly, we always try to make the assembly phase easier and smooth by providing all the necessary help.
To start, our pieces of equipment are tailored to be installation-ready and user-friendly to help clients who prefer to install the equipment themselves. We offer a clear and detailed step-by-step installation guide, installation videos, images, and design drawings that you may use as a reference. And we also organized a 24 hours sales service representative for you whom you can contact for installation inquiries.
However, for clients who are not adept in D-I-Y, you may opt to request to have our professional engineers do the installation for you. Our skilled playground assembly team are multiple visa holders, so you're sure that they can come to you wherever you are. They also speak basic English to ensure effective communication. This will incur an additional cost on your end, but you're sure that your indoor playground equipment is properly installed and in case there's a need for quick minor repairs, someone will resolve the issue immediately.
Excellent Customer Service
Choose a manufacturer that stays with you until everything is settled from purchase, assembly, and repairs. It is important to choose companies that proactively help address their customer's inquiries, repair, and replacement needs, and warranty issues. Here at Dreamland Playground, we offer 24 hours sales service to assist you whenever you need help.
Choose the Ones with Safety Certification
In the indoor playground business, children's safety should be the top priority. Parents entrust their children to indoor playgrounds because of the safe entertainment they provide. So stand firm on your promise and maintain kids' safety at all times.
Start by choosing playground equipment that underwent rigorous quality testing and safety certification that shows that they religiously complied with international safety standards. Reputable manufacturers proactively provide international safety certificates that serve as proof that their product surpassed the highest quality standards. You can find these certifications on their website.
Dreamland Playground implements strict compliance to the safety standards established for indoor playgrounds. We pride ourselves on surpassing the strict quality requirements set by North American and European standards. For European standards, we passed the TUV, GS-EN1176, and CE, and for North American standards, we bear ASTM, CPSIA, UL94, and NFPA701 certifications. Aside from these, we are also fully compliant with AS3533.4.2-2013 for Australia, CSA Z614-07 (R2012) for Canada, and ISO certified.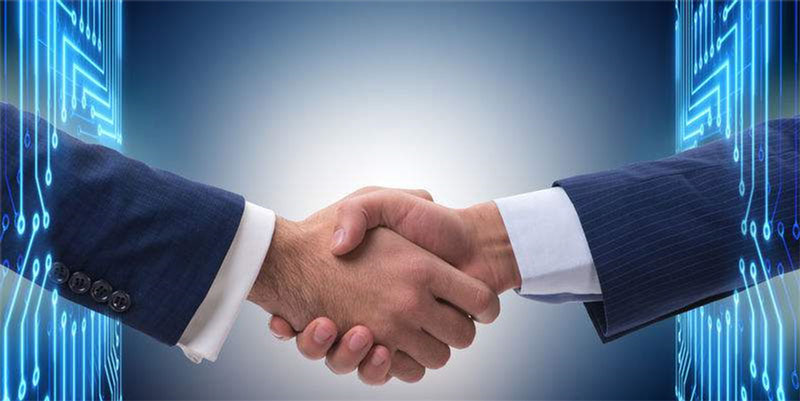 8.Strategic Marketing
Strategic marketing will help you understand what you can offer to customers that are unique and practical that customers will surely love. It is important to understand the current competition in the industry to determine the additional services that your competitors are offering. However, it is more important to find out what's missing because what they haven't offered yet could be your edge over your competitors.
To do this, you need to establish what's the "pain point" or the weak link that hinders your customers from getting the best product and services they're aiming for. Once you find it, address it by giving them exactly what they need. Below are some of the pain points in the indoor playground niche and a few recommendations on how to solve them.
Expensive ticket rates
Offer a separate ticket price for kids and adult
Offer a Loyalty Program that gives a free ticket on the customer's 8th visit.
Provide a family package for families with multiple children such as "buy 3 tickets and get 1 free".
Noisy Environment
Add a quiet space or parents' lounge area where they can relax, read books, listen to podcasts, browse, etc. while they wait for their kids.
Unsanitary Indoor Playground
Implement a high standard of cleanliness through daily disinfection and scheduled deep cleaning. When it comes to sanitation, parents are more likely to choose clean and sanitized environments even if it means paying double. That's how protective parents are to their children.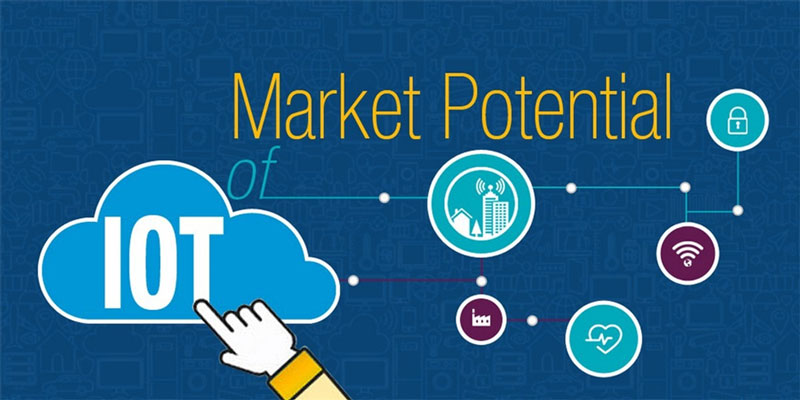 9.Increase your Visibility
Introduce your business to the public and increase its exposure through different advertising channels. You don't have to spend much on advertising, use the available tools and maximize it.
One of the free advertising channels is social media and its audience reach is limitless, take advantage of it. Create hype by posting updates and offering promotions such as free snacks, ticket discounts, and referral programs.
Another advantage of social media marketing is that people can easily recommend and refer your business to their friends. And you'll easily get positive reviews.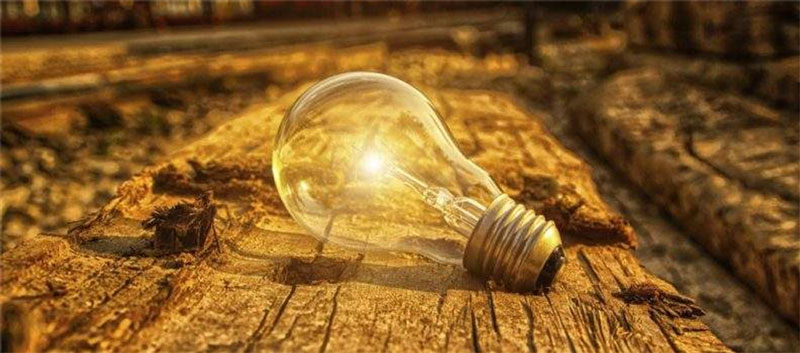 10.Offer Birthday Packages
In business, everything is possible including low foot traffic. Find another revenue stream by offering attractive Party Packages that parents will surely love. You can customize your party packages, add fun activities, and creative entertainment that will leave a lasting impression on the younger children and the parents. This will introduce your business to first-time goers (guests) and allow you to personally market your business.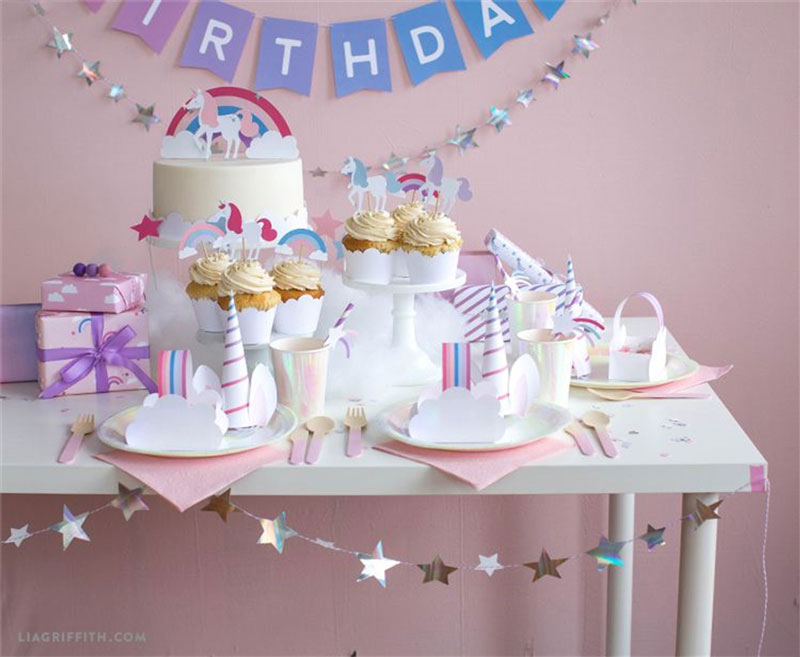 11.Address Dead-Time
Expect some dead time in the indoor playground business since your operating schedule is similar to the school's schedule. Weekends, holidays, school breaks, and after-school hours are commonly the peak time of your business.
Find ways to lower dead time by opening your business to different gatherings and activities.
Open your business to team buildings
Fill in your morning and afternoon off-peak hours with physical activities for adults such as yoga sessions, gymnastics, Zumba classes, etc.
Open your playground to school field trips and excursions.
Open a toddler level and non-school-aged entertainment.
Start a Daycare service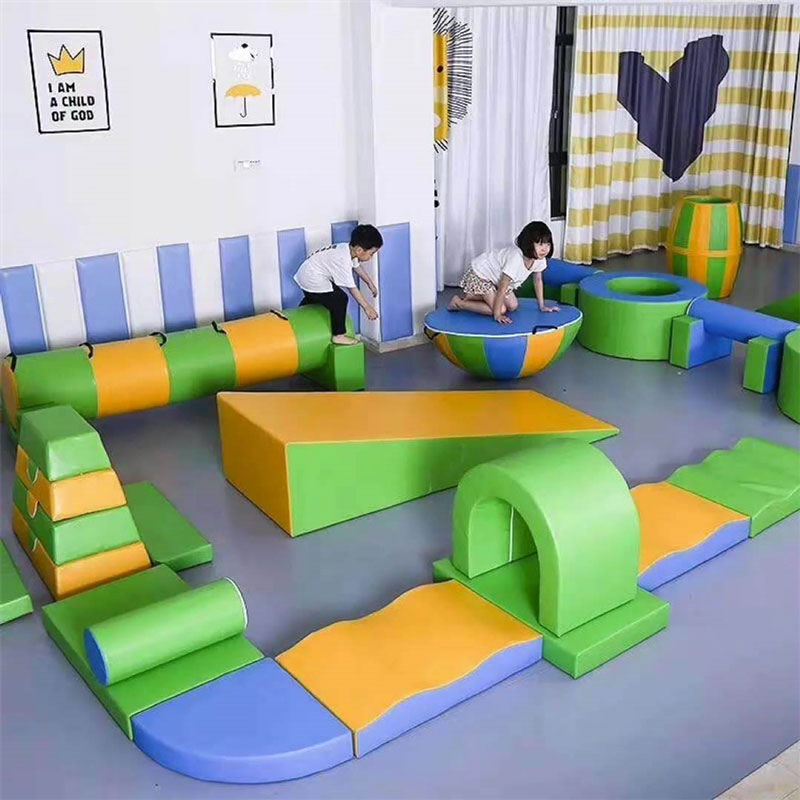 12.Design your Indoor Playground Creatively
Impress the parents and children with creative, unique, and visually fresh yet entertaining designs. Be bold, use your imagination, and create an exciting play area for younger children. A customized indoor playground will easily capture kids' interest and will set your business apart from your competitors.
When designing, consider the following factors to achieve a vibrant and welcoming indoor playground.
Maximize your Rental Space
After carefully selecting your location, the next thing to do is to assess your playground space. Decide where to install the indoor playground, the mini pantry, comfort rooms, and the kids' lounge area. For the gymnastics park, you need to have high ceilings to accommodate jumping, tumbling, and other activities.
Pick a Stimulating Theme and Use Vibrant Colors
Encourage children's imagination by picking a theme suitable for younger children. Make them experience how their favorite characters turn to life with a themed playground. You may also opt for simple but impressive designs using vibrant and visually captivating colors such as yellow, blue, red, and green. Use the power of colors to stimulate kids' interest and excitement!
Add Colorful Toys and Fun Activities
Kids will always love toys. Add colorful toys and fun-filled games that encourage physical activity such as climbing structures, ninja warrior courses, inflatables, trampoline parks, tunnels, puzzles, slides, inflatables, and wall climbing activities.
An indoor playground business is a highly profitable business especially in large cities with large populations of children. Whether you're building a standalone playground business or adding a play area to your existing successful business, it will bring a stable stream of revenue with the right strategies and business plan.